TOAST Renewal Collaboration

TOAST has long viewed their garments as a resource to recycle rather than waste.

As part of their ongoing partnership with Crafts Council UK, TOAST asked eight experienced textile artists from across the world to renew a few pieces from their archive collection. Using remnant fabric and faulty garments from production, each piece has been repaired, renewed and transformed using a variety of textile techniques.

In keeping with my unique style and artistic approach, I renewed a pair of dungarees, a coat and a shirt with intricate attention to detail. I combined a range of appliqué, quilting and hand sewn techniques as well as using naturally dyed fabrics.

The finished pieces were auctioned online, with all proceeds being donated to Crafts Council UK.

Materials
Naturally dyed bridal silk offcuts, organic cotton-linen, and wool.

Date of Production
March 2021



Appliqué Cotton Parka. Size 10.
Italian-woven, midweight, water resistant cotton blend. Paths of stitching throughout and canvas patchworking by Isabel Fletcher. Taking inspiration from the overlooked details of the everyday, Isabel's textile works often expose raw edges and visible stitches. Using offcuts and discarded fabrics as her starting point, she allows the unique shape, colour and texture of the fabric to inform her compositions. The parka has an easy, roomy cut, for layering underneath or as you will. Button tab to fasten at front neck, and button down with four corozo buttons. Flapped pockets, drawstring at inner waist and a large hood. Full length sleeves.
Appliqué Denim Dungarees. Size 10.
Mediumweight, indigo-dyed, organic cotton with colourful applique patches throughout. The dungarees have easy, straight legs with four pockets in the trouser. They have a central bib pocket, adjustable straps and three buttons to fasten at the right side.
Appliqué Dogtooth Shirt. Size 8.
Soft, midweight cotton with appliquéd blocks around the placket by Isabel Fletcher. The shirt has a long, pull on cut, and is collarless with a row of buttons below. Full length sleeves with buttoned cuffs. Curved hem dropped lower at back.
Offcut Two

'Offcut Two' is the second part of an artistic exploration of waste. Fletcher showcased new work inspired by a Thames Estuary landfill site, where layers of once hidden waste are spilling into the river. Fletcher created an all-encompassing experience for viewers, aiming to deliver on both an informative and artistic level. Shocking and delighting in equal measure, Offcut Two encouraged viewers to make changes within their micro world that will generate a macro impact.



Materials
Organic cotton-linen, wool, peace silk, repurposed wool blanket, naturally dyed wool and silk offcuts.
Date of Production
December 2019 - March 2020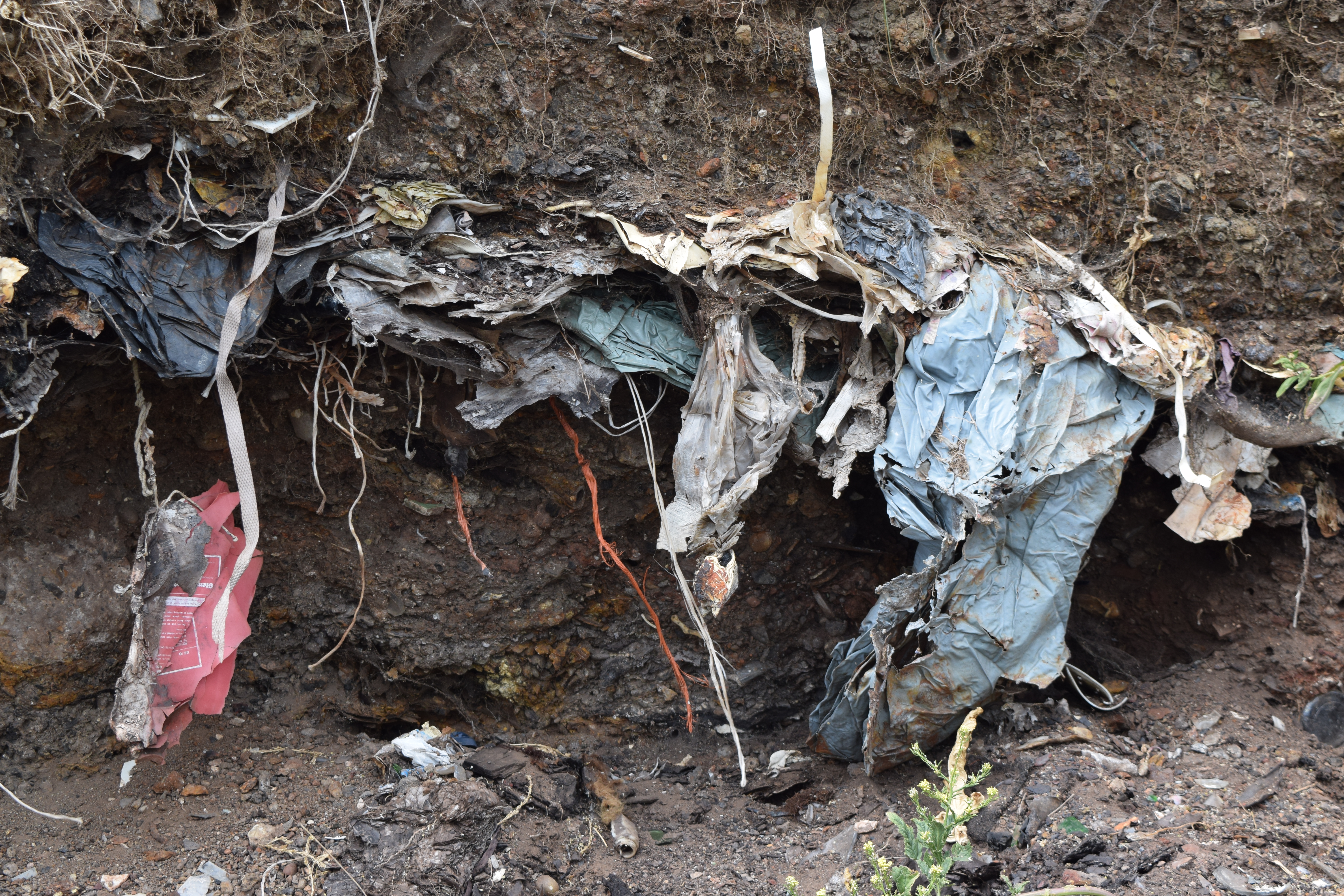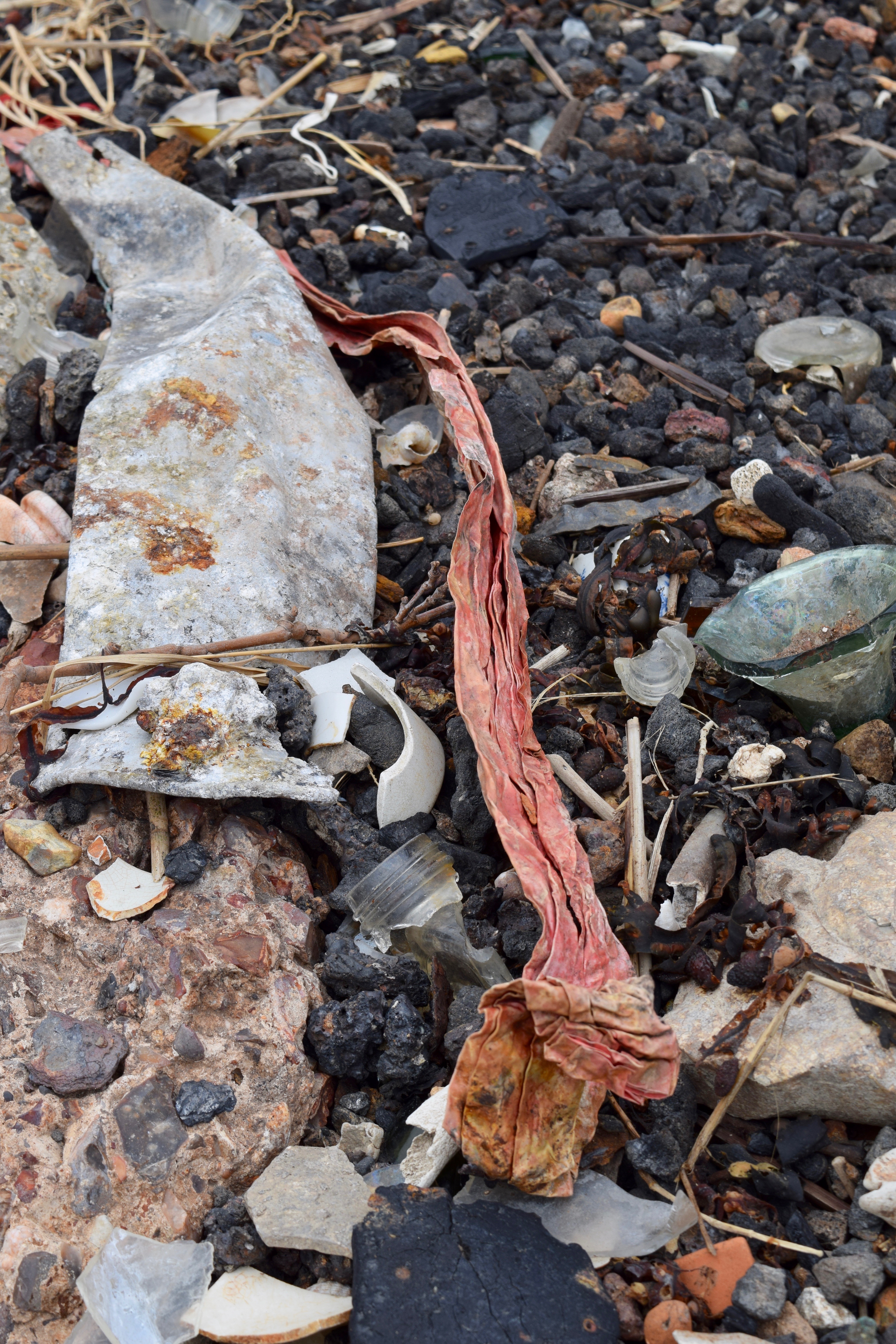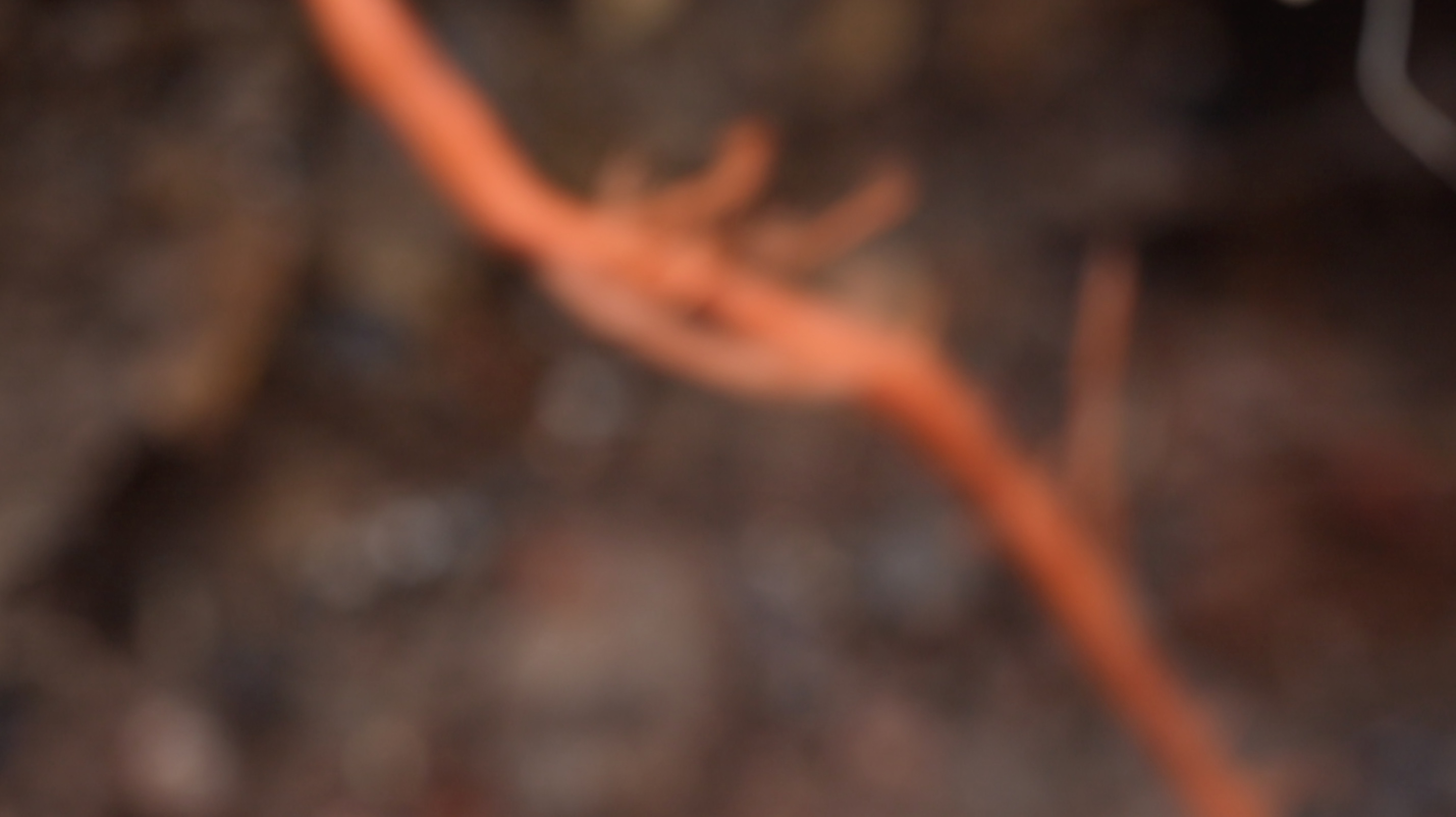 The concept of 'Offcut Two' was first conceived during a visit to East Tilbury after hearing of the historic landfill site. Packed full of materials such as ceramics, glass and more contemporary plastics and synthetics, the site is a 20th Century time capsule. However, as the effects of coastal erosion take place here, this waste is being unearthed and swept into the Thames.

From today's climate conscious point of view, we observe the situation in East Tilbury feeling we could have done things differently. The harmful state of East Tilbury's content (including asbestos and battery leachates) is beyond use for a designer to work with physically so instead, 'Offcut Two' aims to further the lifespan of this waste by observing its weathered shapes and colours to inform contemporary designs.

"Through this collection, I want to convey an important message to care for and respect our possessions, while finding beauty and purpose in the discarded fragments of our lives."

Every piece in the collection is made using a variety of environmentally conscious fabrics which are gathered, draped and structured, mimicking the patterns seen in Tilbury's landfill waste. This concept has also seen Fletcher using a more subdued colour palette than in past work.

Earthy tones and washed out reds are scattered with small pops of colour referencing the shredded waste strewn across the landfill. This unique palette has been achieved using food waste and plant dyes applied by hand, with the addition of GOTS certified digital printing.
As with '
Offcut One
', Fletcher has kept every offcut piece of fabric left from the collection to feed into further work. These take the form of homeware pieces including the rugs and quilts featured in the installation. By allowing people to touch fabrics, try on the clothing and sit on the rugs, Fletcher encourages viewers to appreciate the quality of craft first-hand.
"By valuing the craft of everyday objects in our lives, we will respect, look after, mend and repair them, in turn consuming less."
A film recorded at the Tilbury landfill acts as a contextual backdrop while a live dance performance transforms the exhibition, forming an immediate connection with viewers.
"Clothing is designed to be worn, moved in and lived in, so what better way to present my work than as a dance performance which truly sets the garments in motion."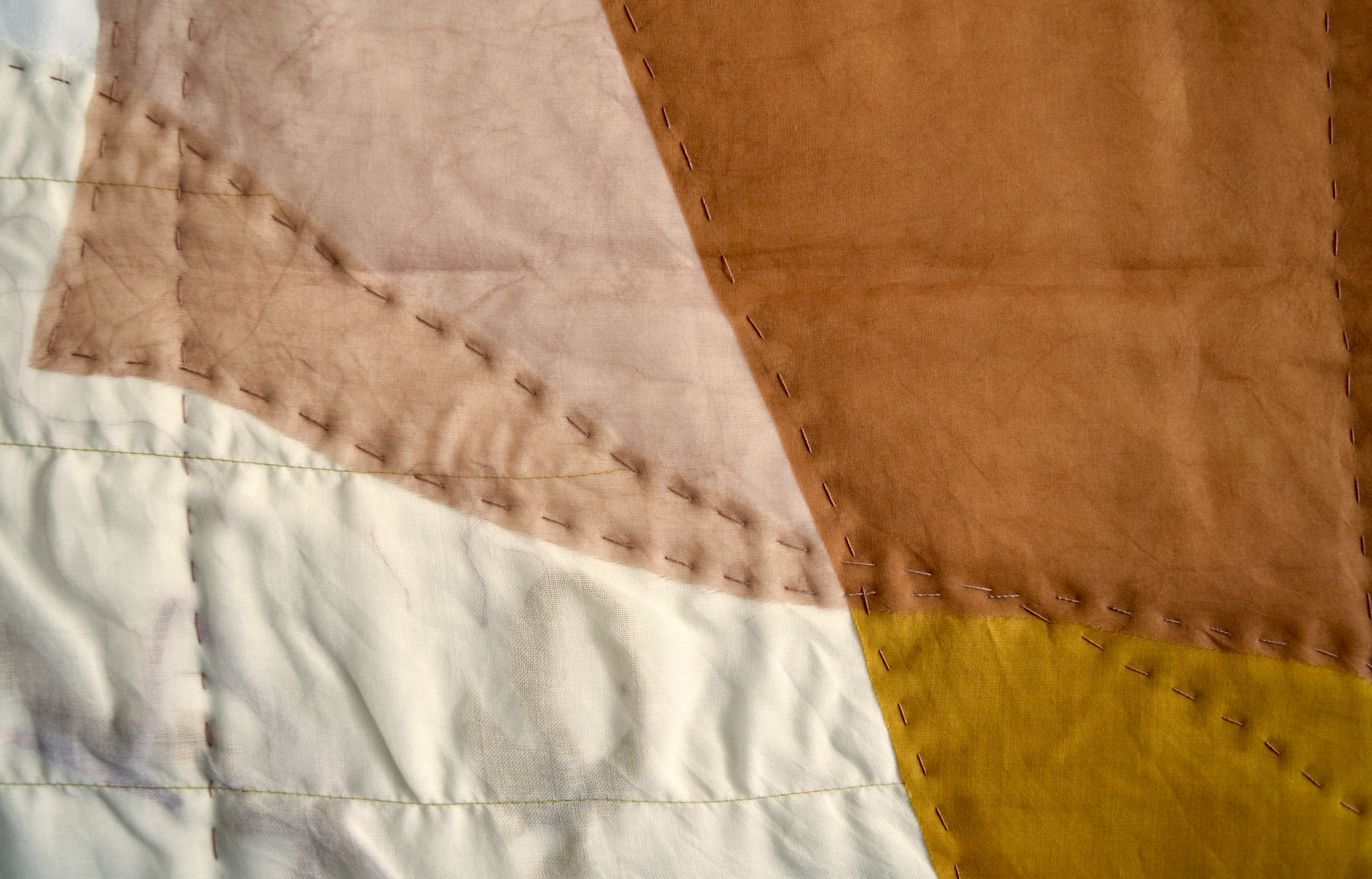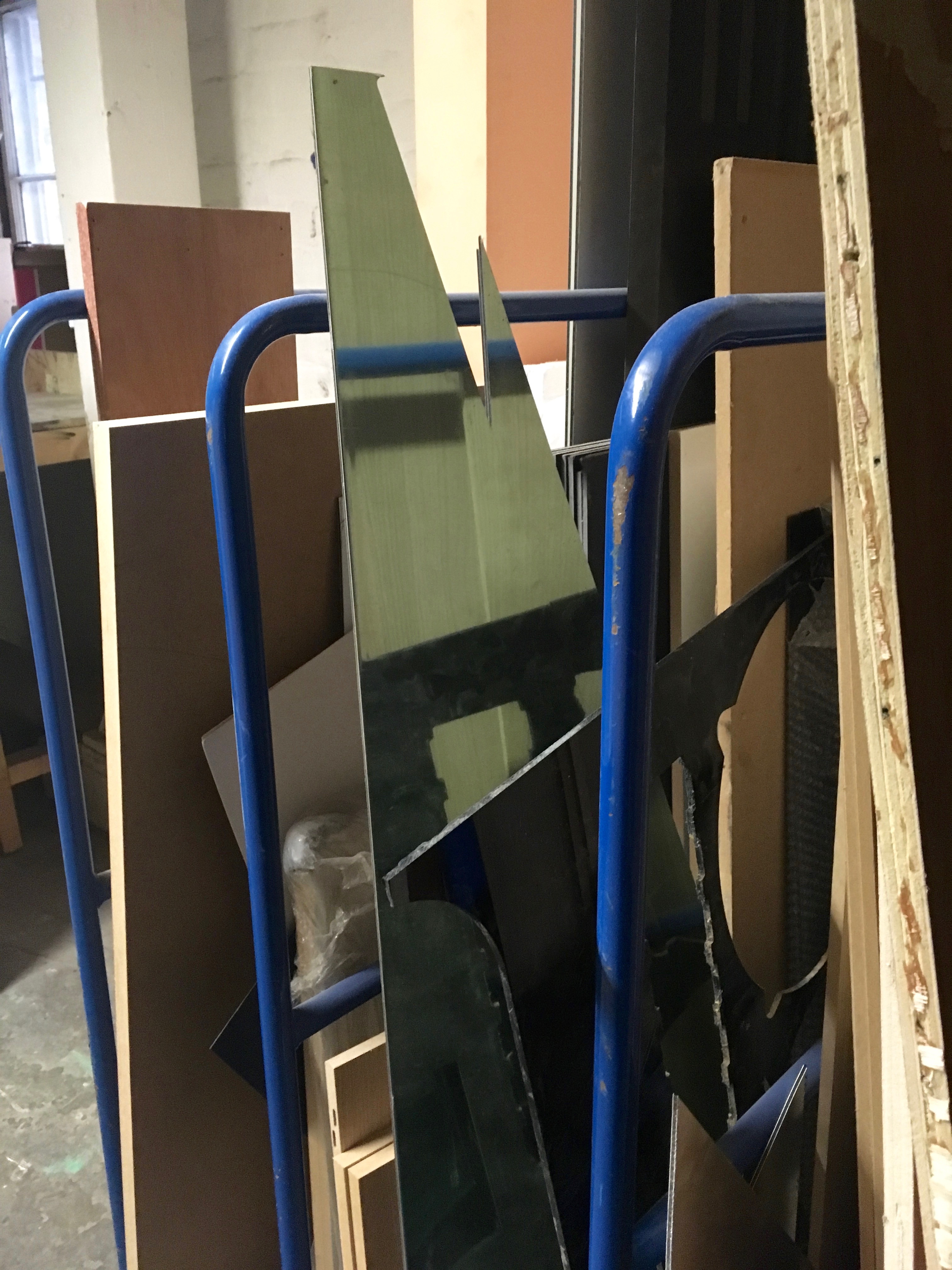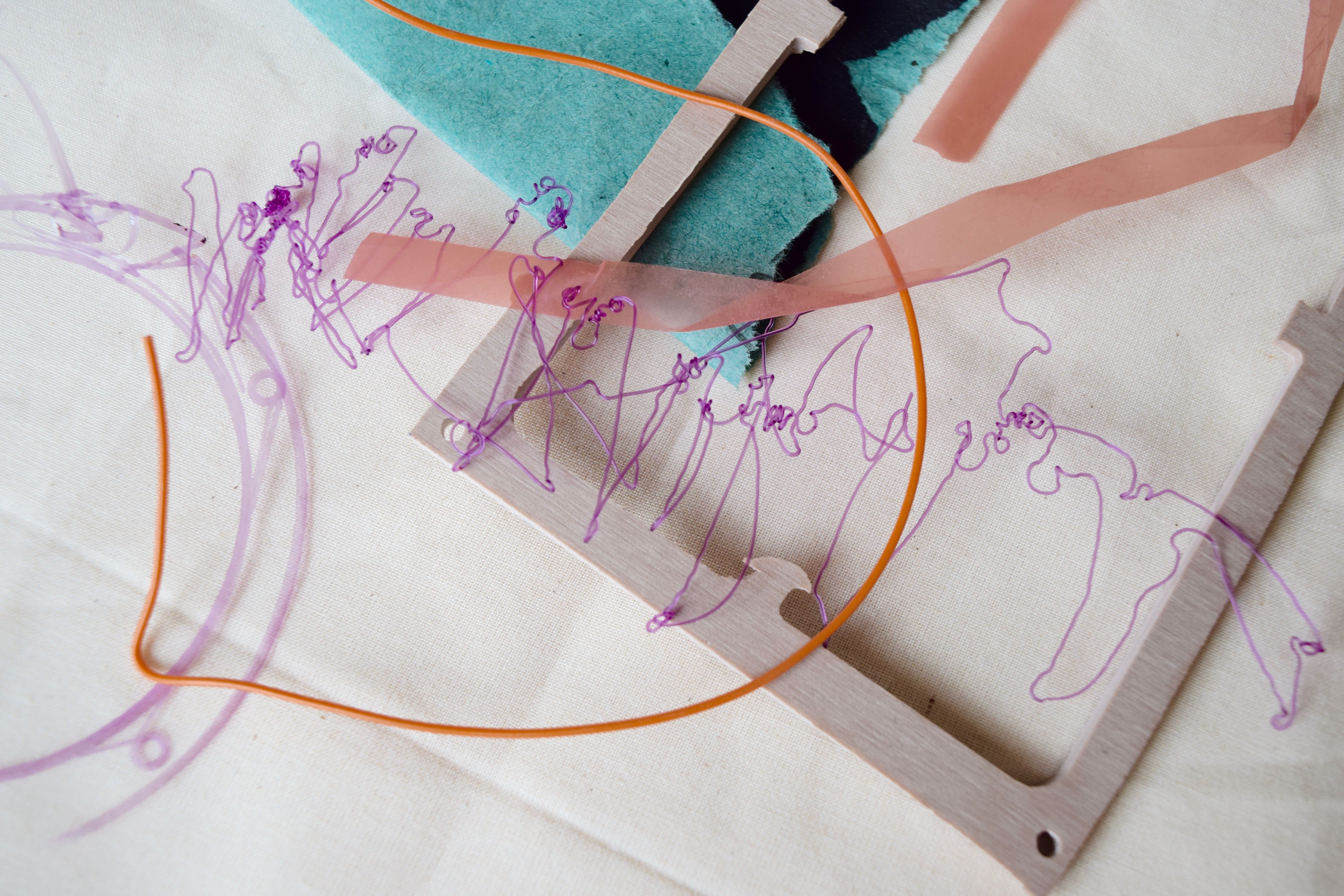 Offcut One
Offcut One is a celebration of discarded materials, translated into a clothing collection. Isabel Fletcher has used a variety of British wool, hemp, linen and bamboo, as well as making bespoke buttons from Parblex by
Chip[S]Board
. Using these sustainable and organic materials, the collection explores colours and bold shapes seen in the layering of waste materials in a workshop.
Materials
British Wool, Hemp, Linen, Bamboo, Parblex
Date of Production
April 2018
The ethos of this project is to make people see offcuts not as waste, but as potential for further design. The Studio wants people to respect the materials they use, and consider what happens to them once they have been discarded.

Studio Isabel Fletcher believes we have to aim to maximize the materials we use in order to do justice to where they came from. Things have become far too convenient and easy, so we now need to challenge ourselves by using recourses more stringently.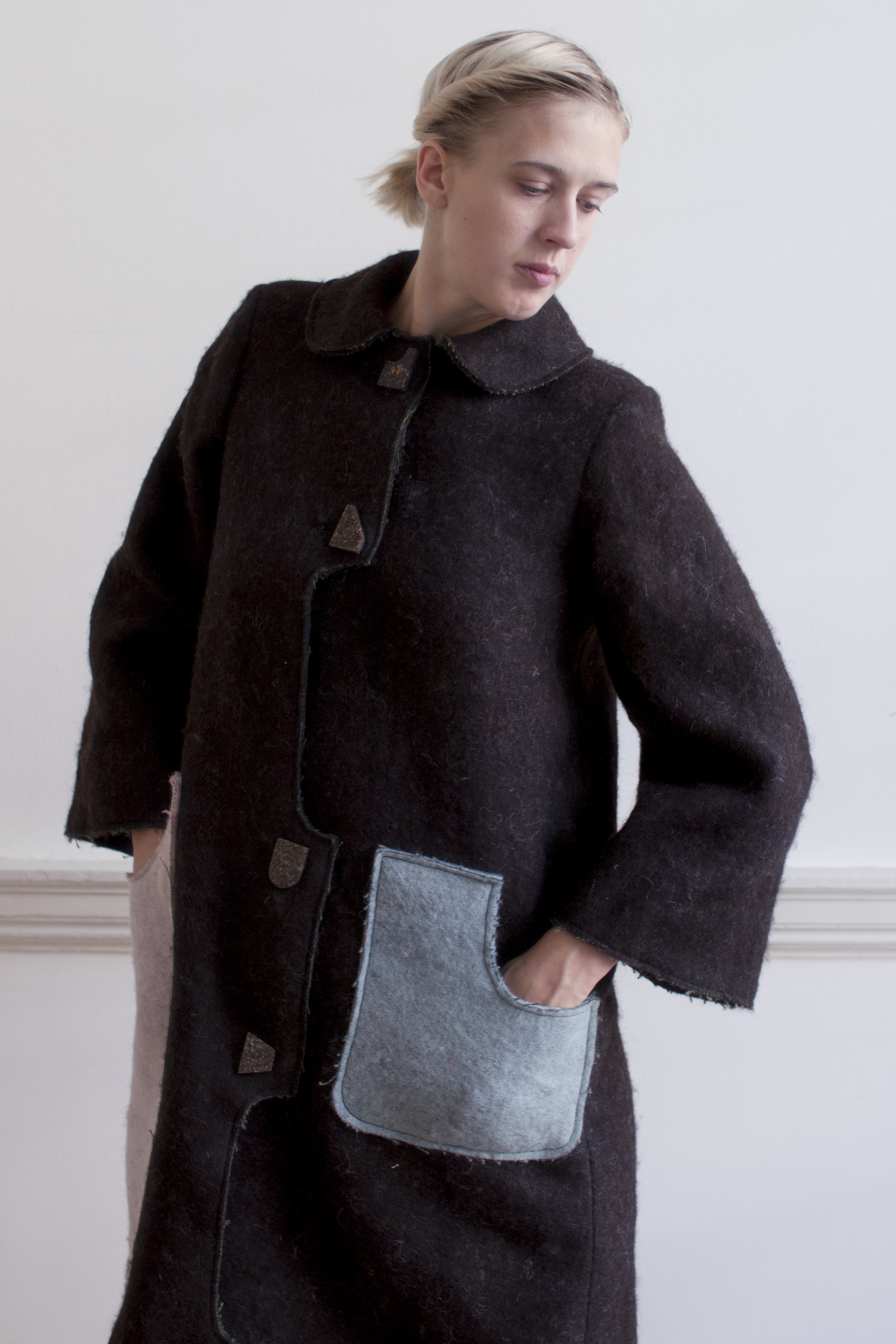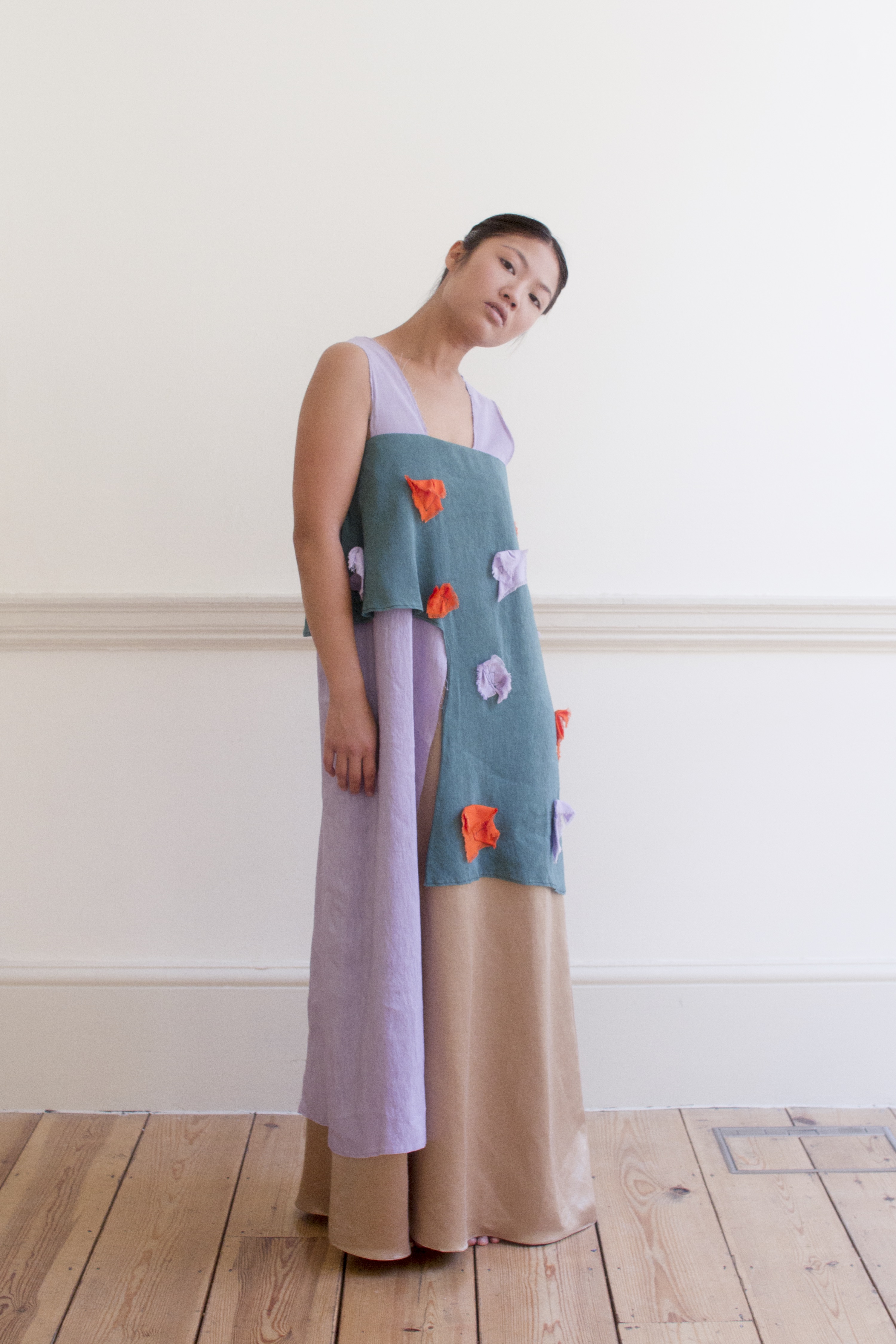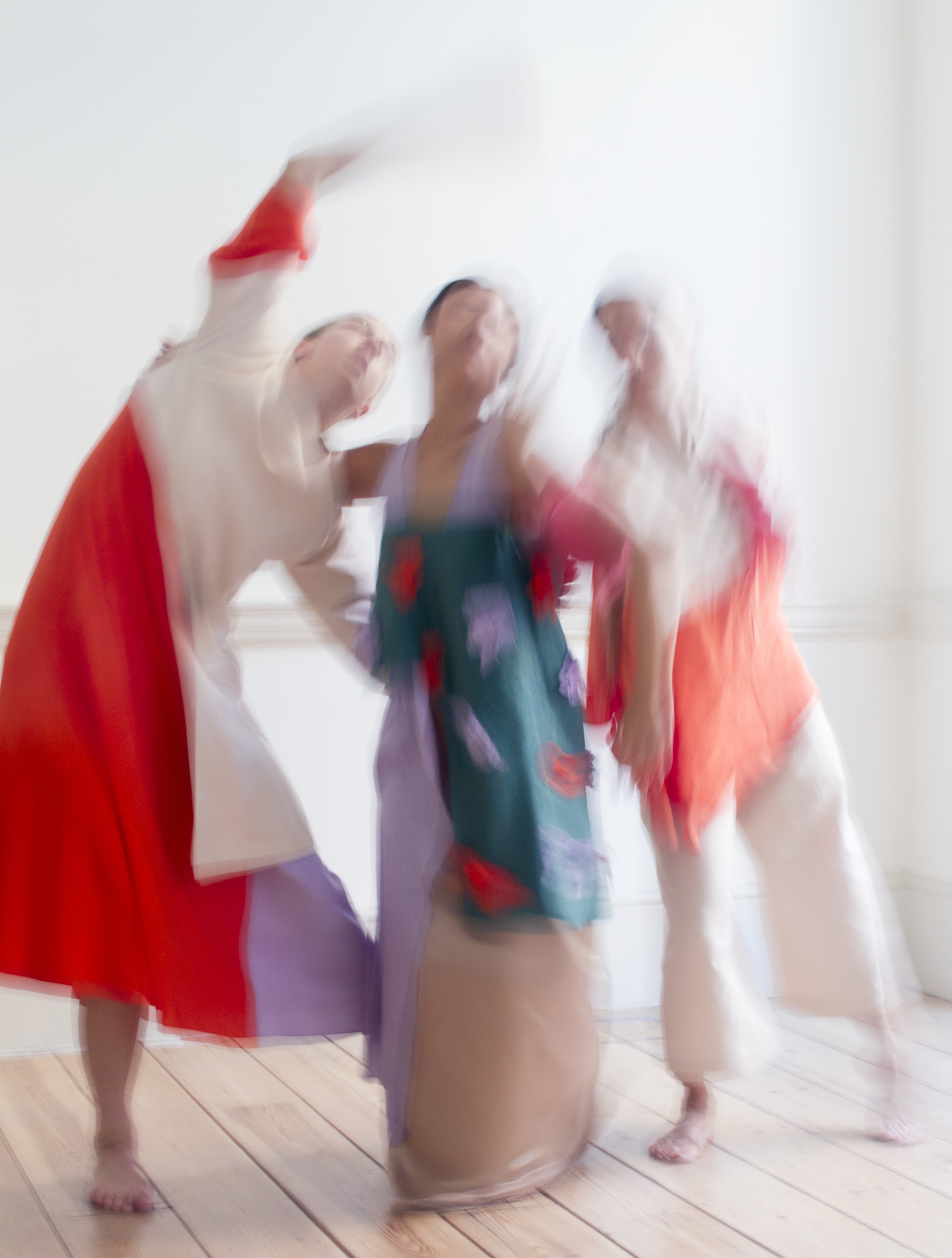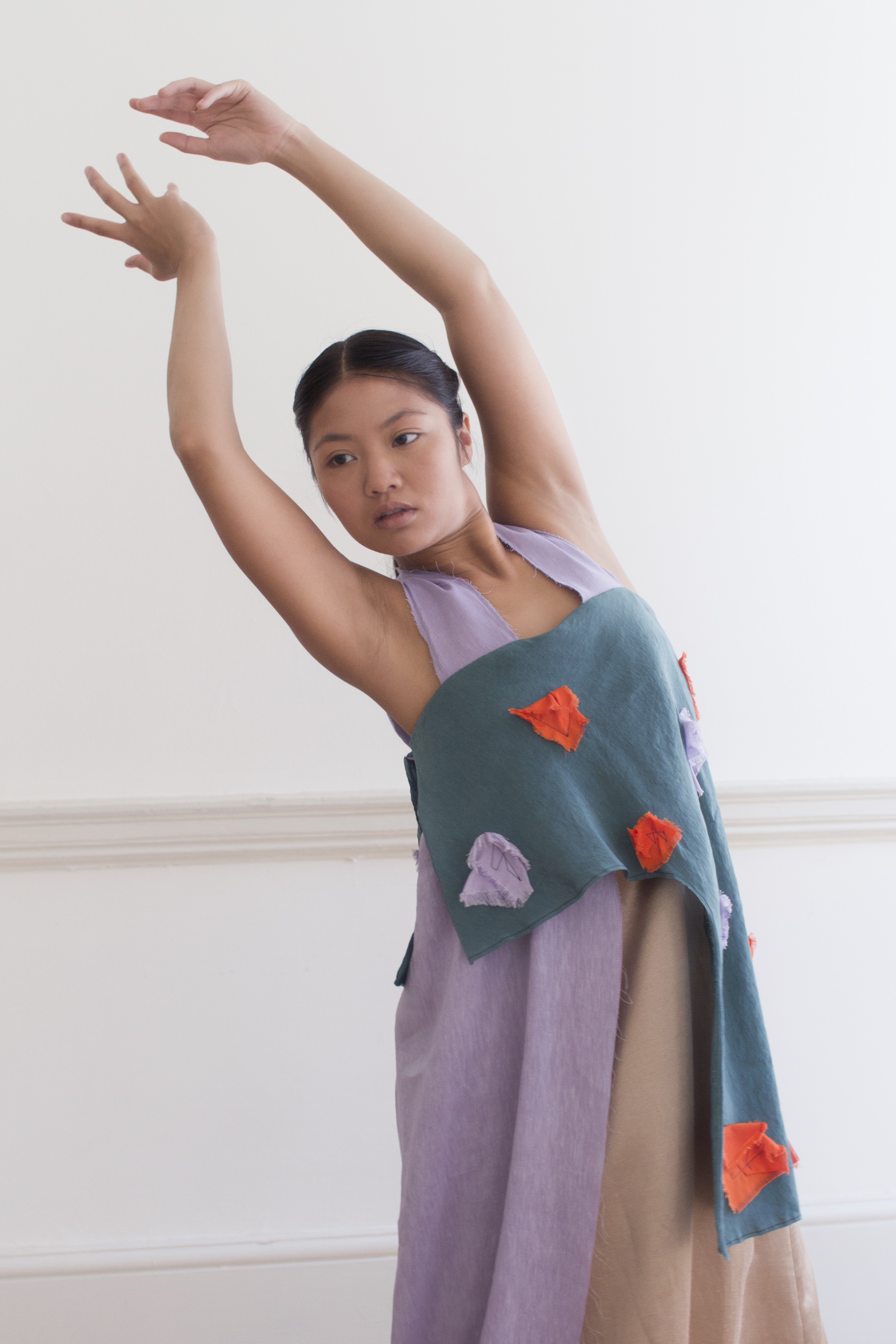 ---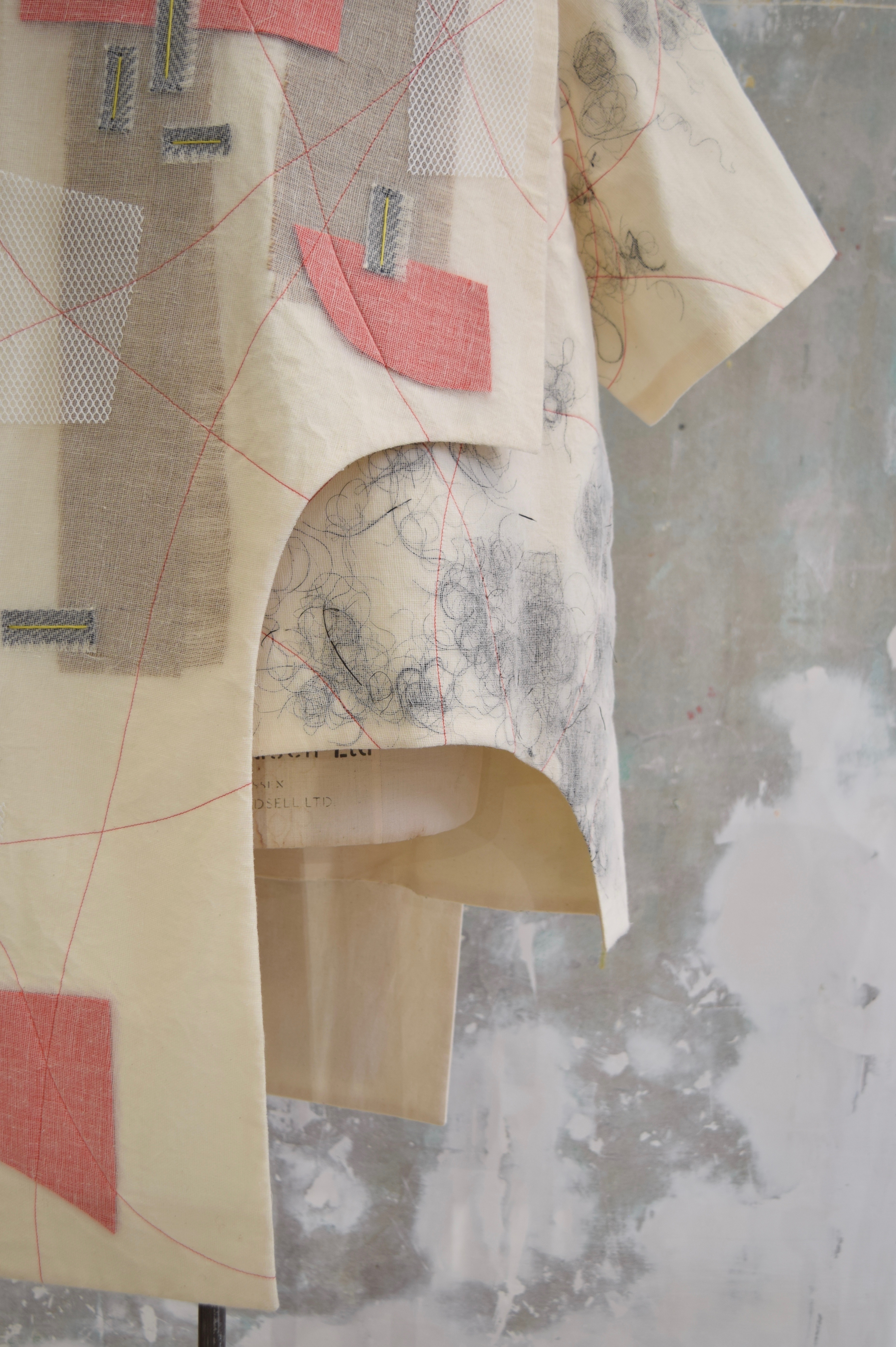 Beneath The Surface, Part Two

Beneath the Surface Part Two was the second phase of the project exploring the theme of materials otherwise overlooked with a focus on the art of upholstery to create a five-piece outerwear collection. Shapes in the collection were inspired by iconic interior decor and furniture by designers and architects such as Frank Lloyd Wright, Joe Colombo and Roger Tallon.
Materials
Wool Underlay, Copper Wire, Jute Rope, Cotton Thread, Upholstery Webbing
Date of Production
September 2018
The architecture firm
Squire and Partners
hosted Studio Isabel Fletcher for the 2017 London Design Festival in line with their
UNDER/EXPOSED
series.
The Studio's aim was to encourage people to build a connection with the clothing they wear on their bodies, and furniture they have in their homes, through increasing their awareness of the craftsmanship involved in making these objects.
This included tactile hangings, drawings, objects and film. This immersive experience was fun for the viewer, while increasing their appreciation of craft.

The aesthetic of the collection and installation celebrated the UNDER/EXPOSED theme and appeal of Squire and Partners' new office, The Department Store in Brixton.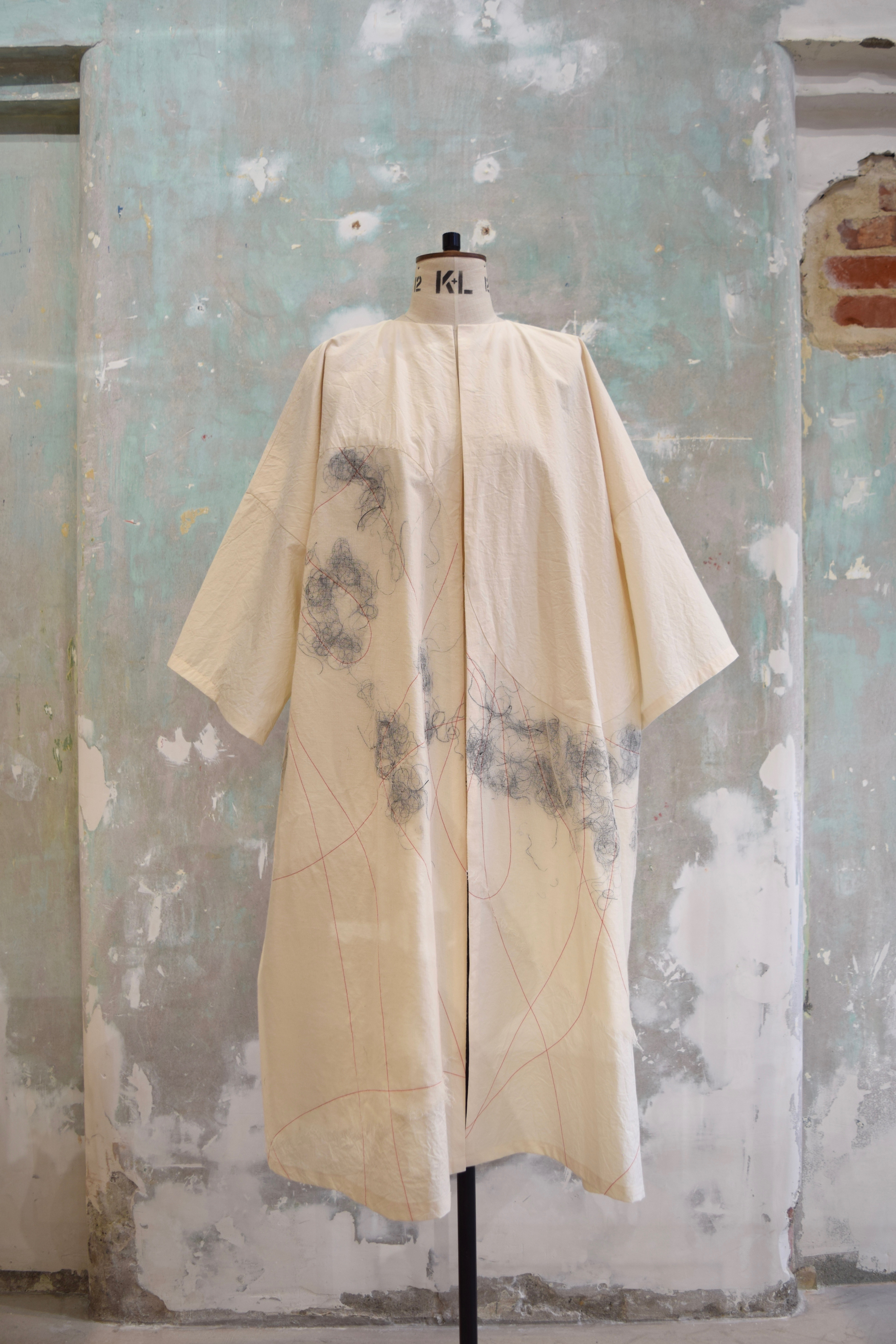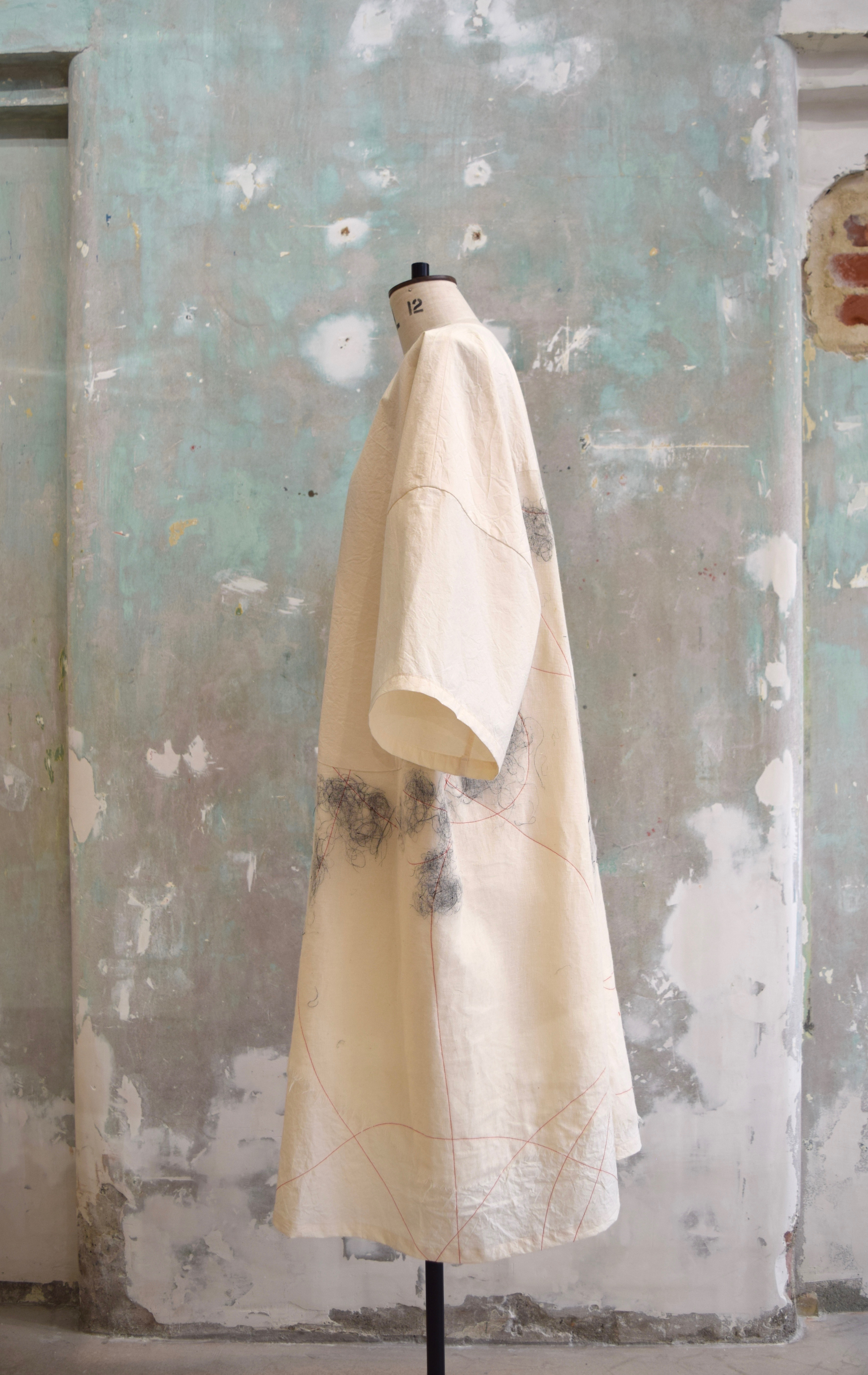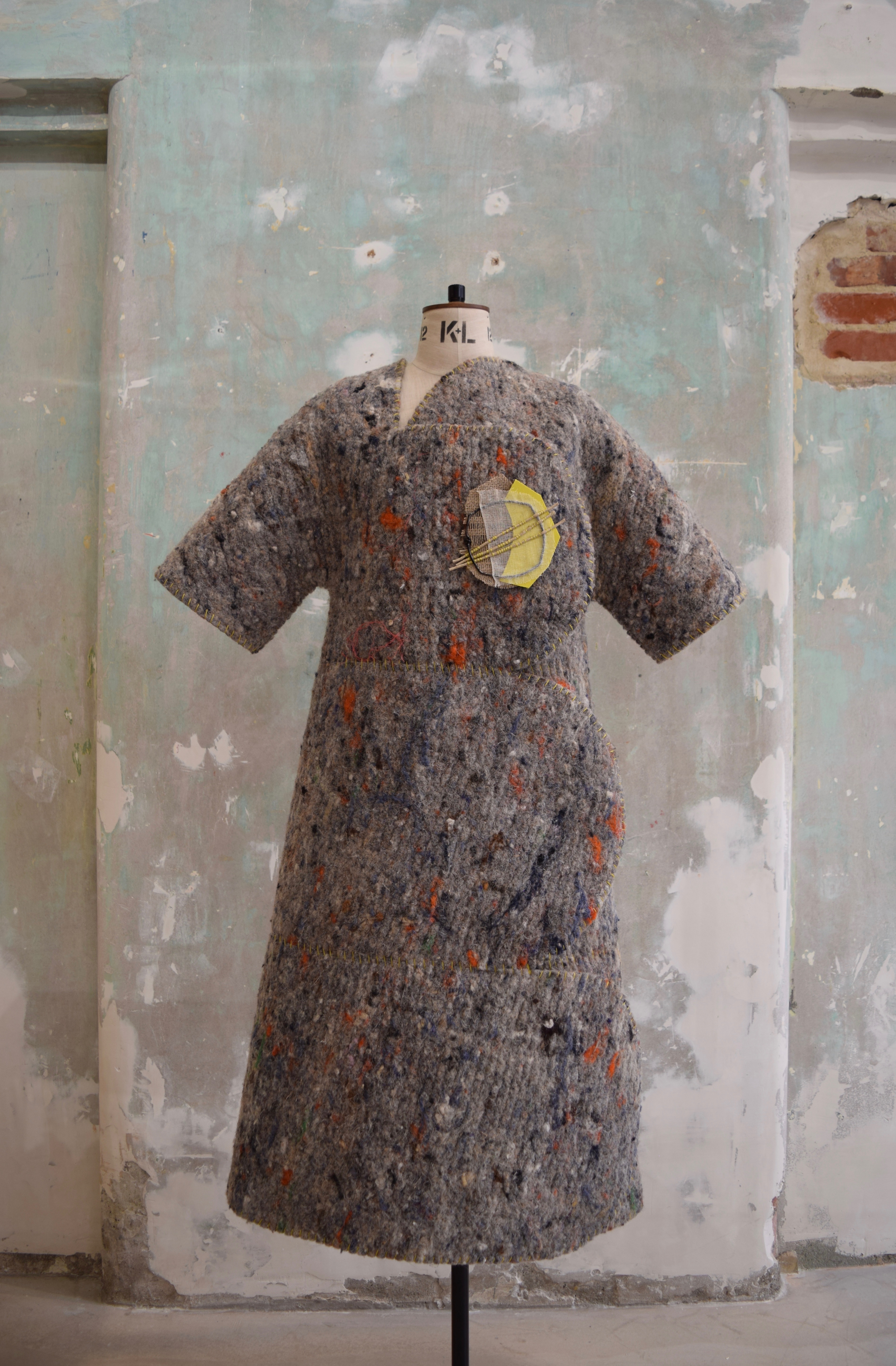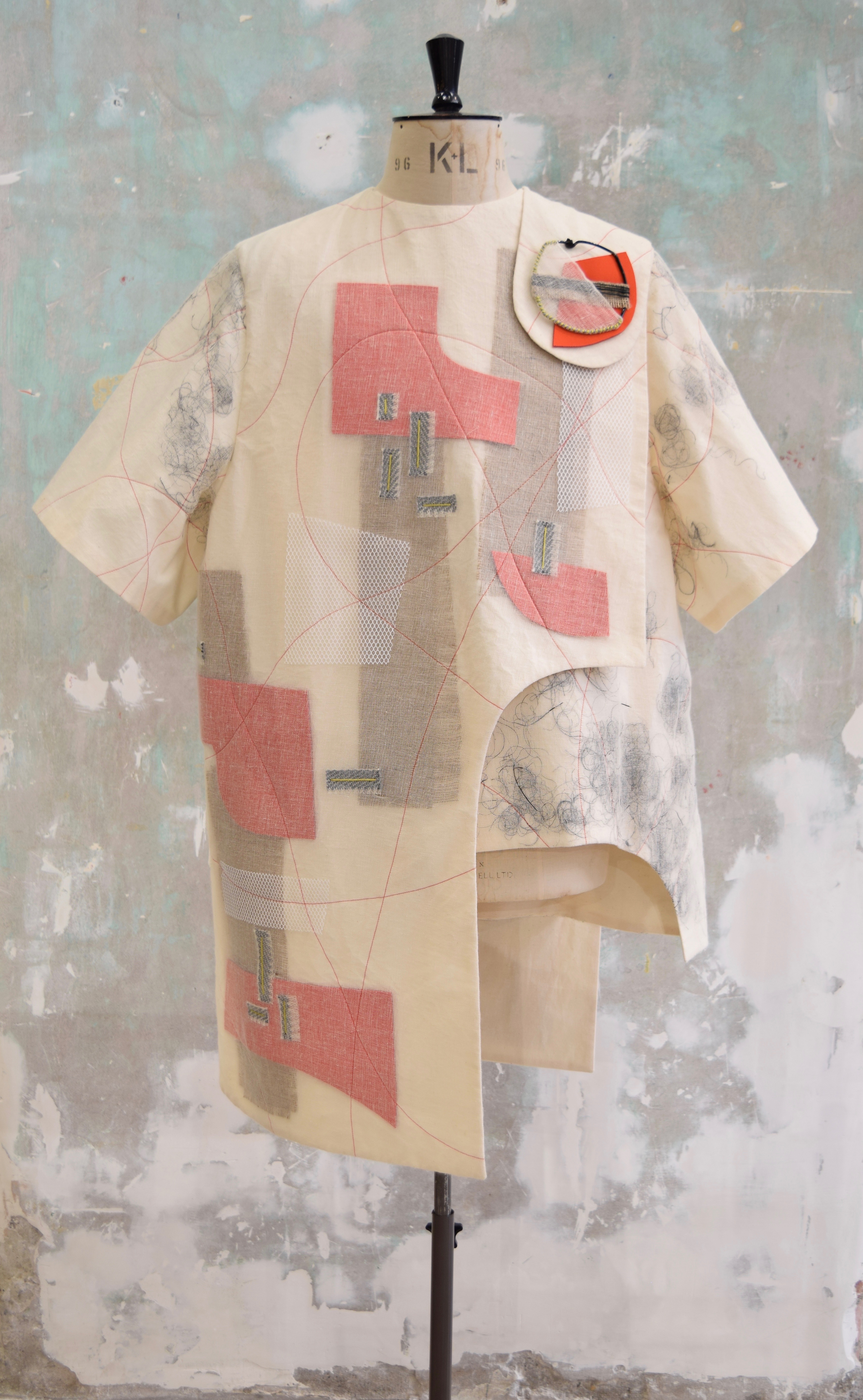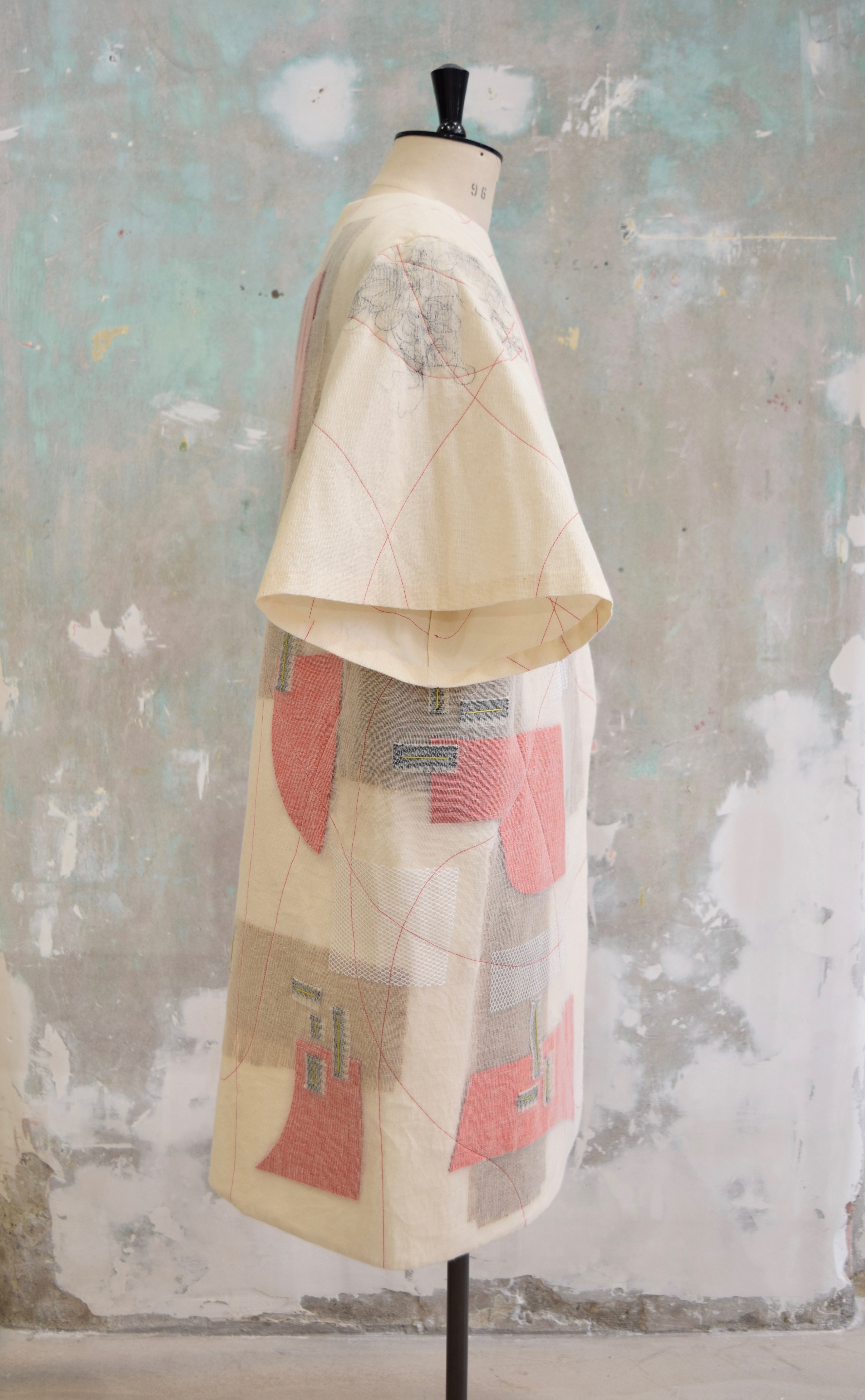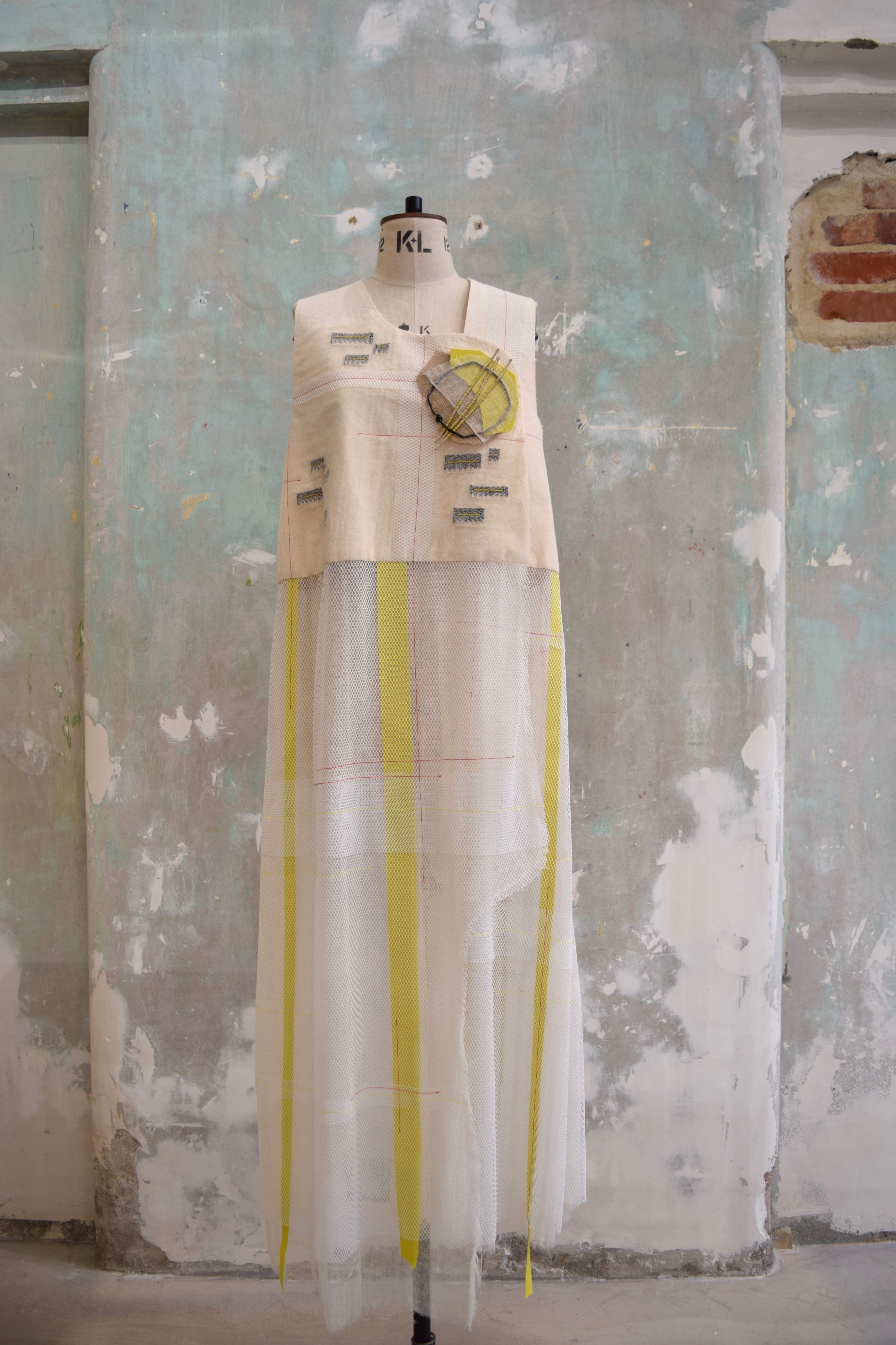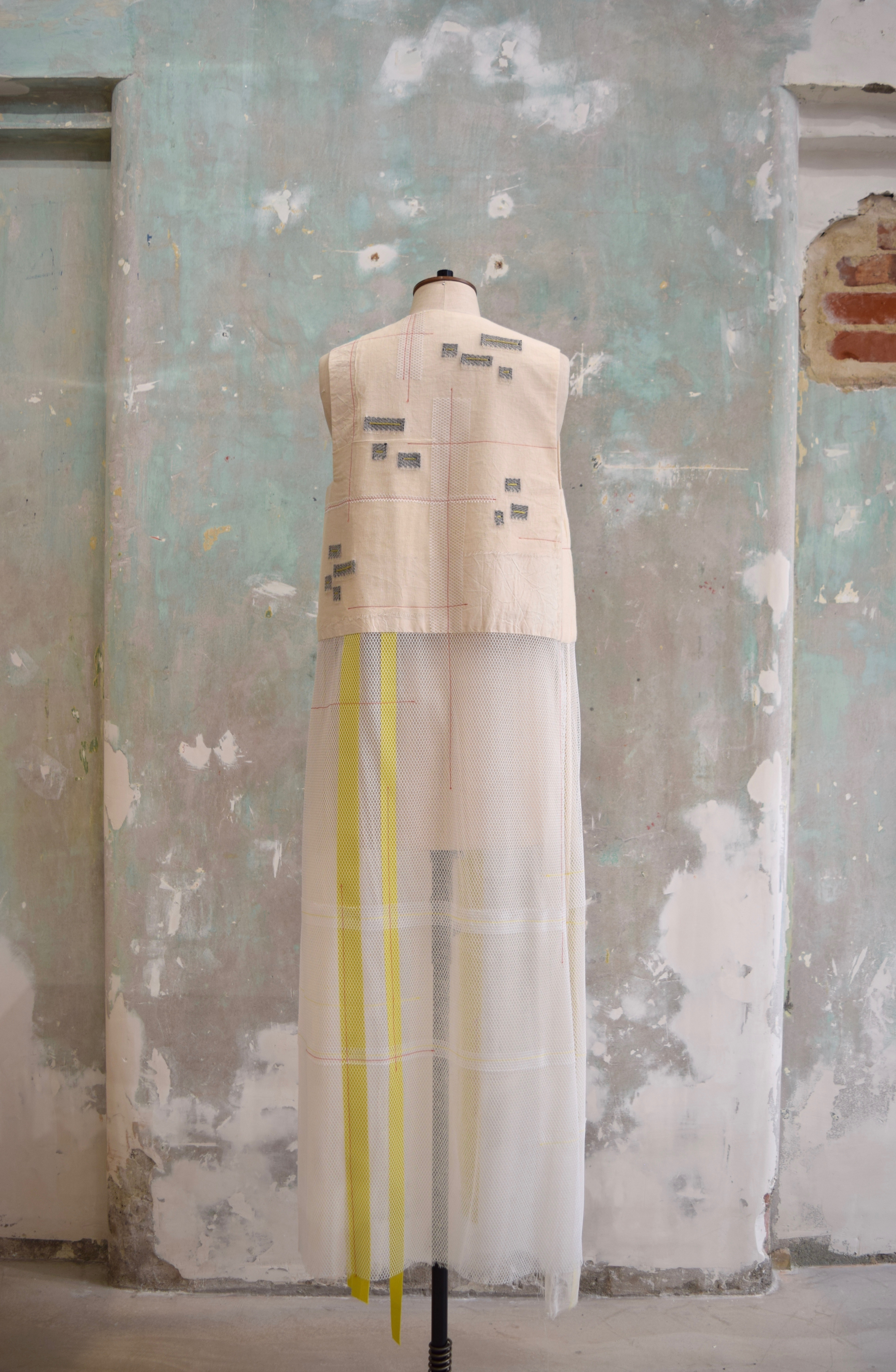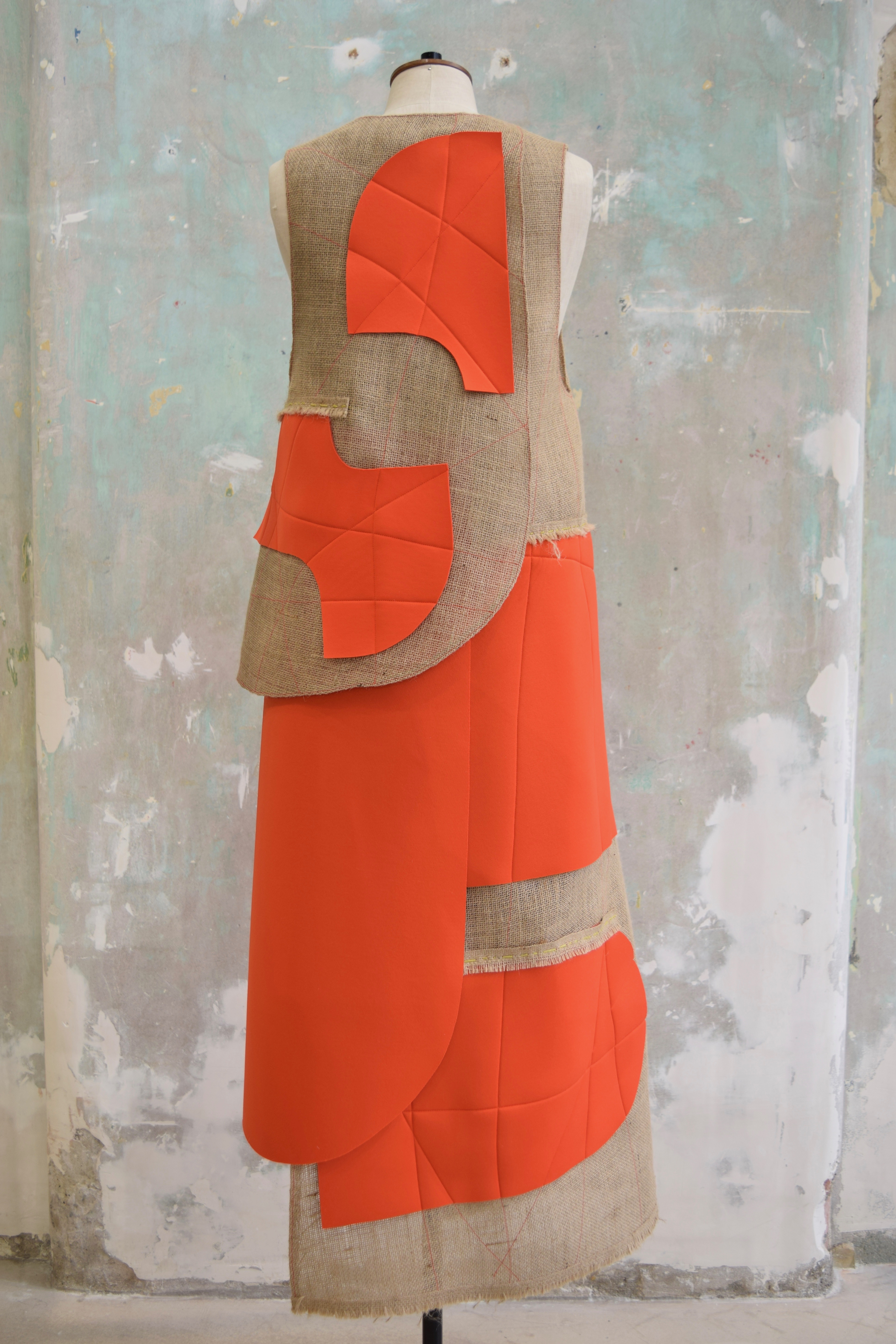 The Installation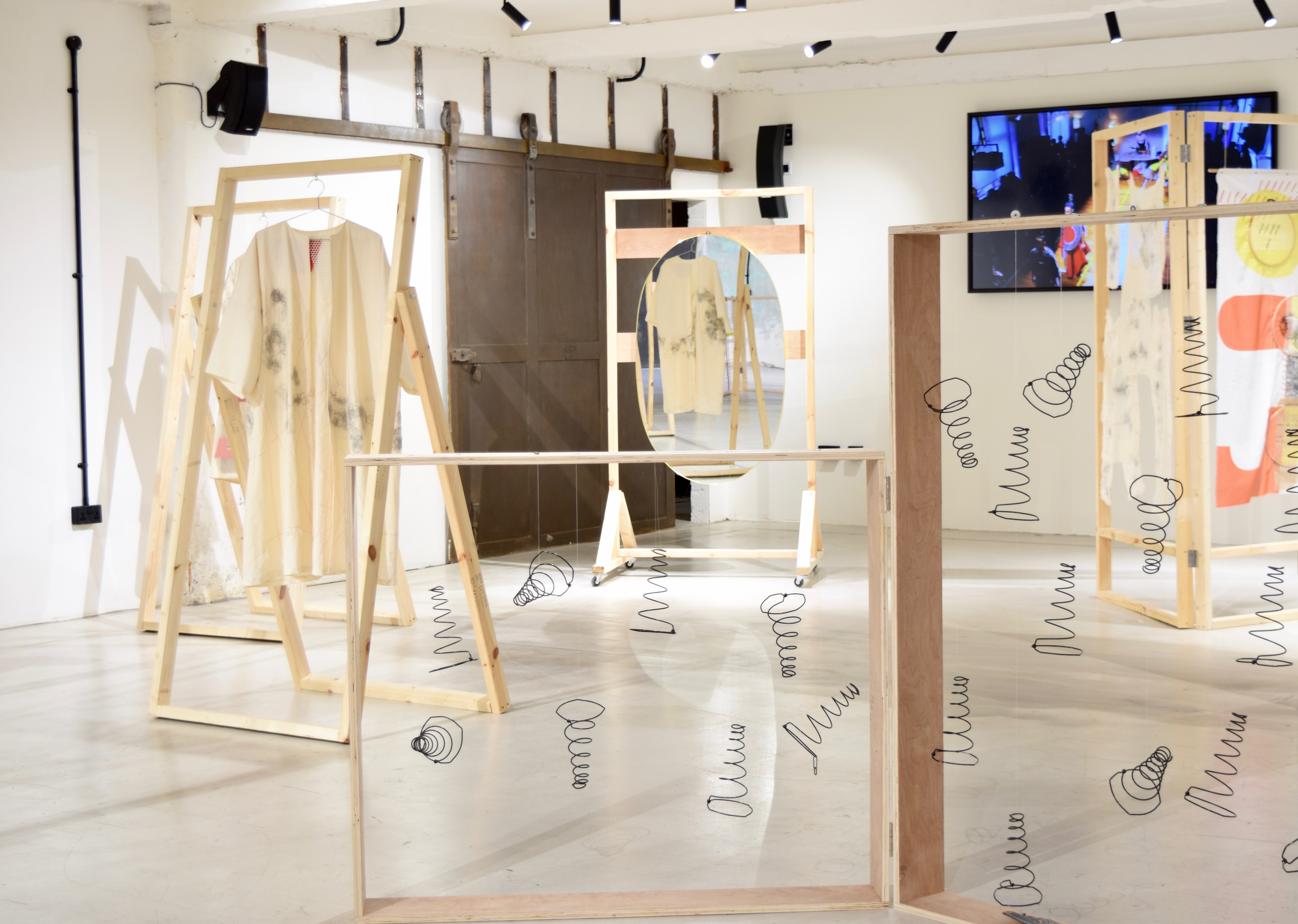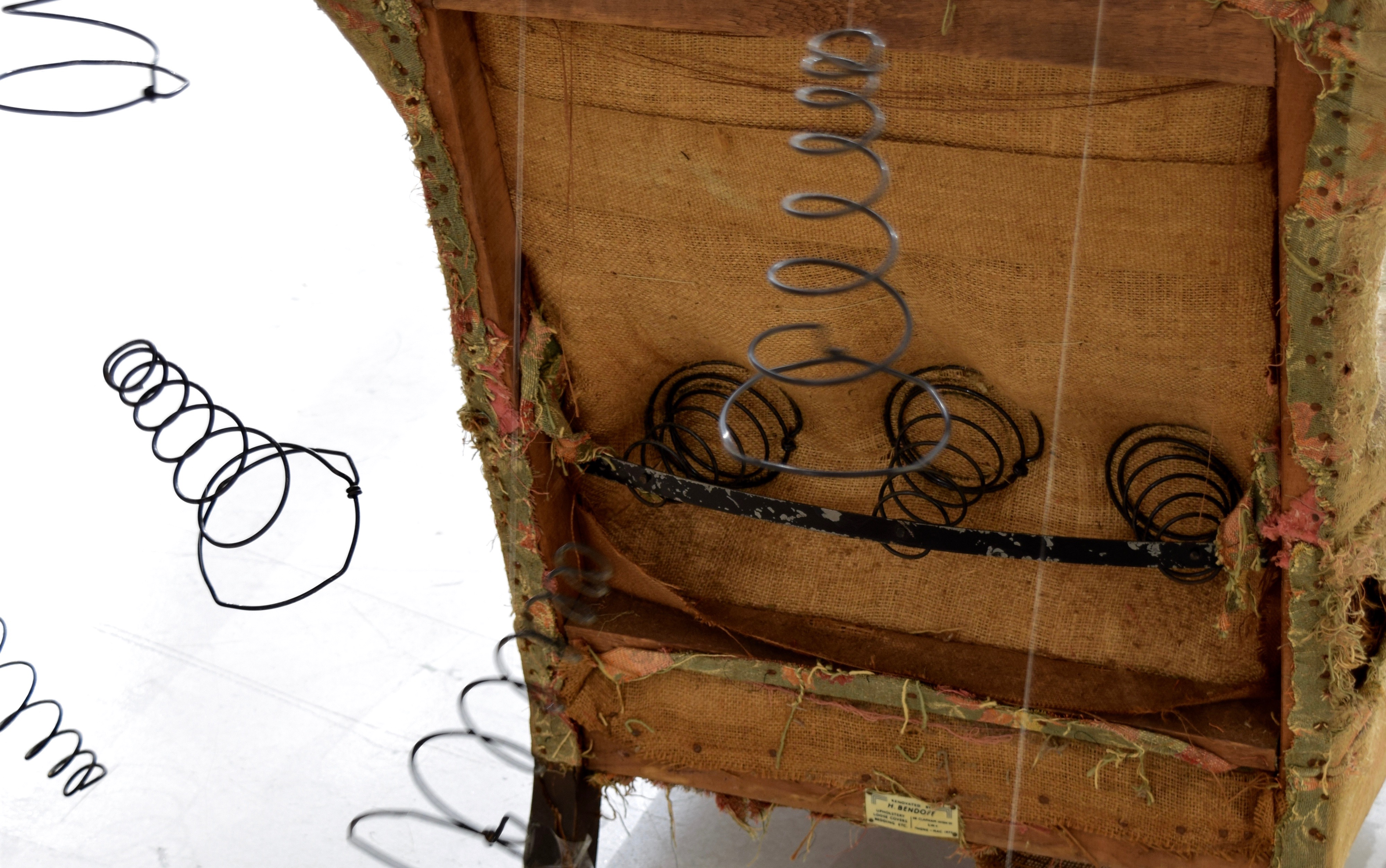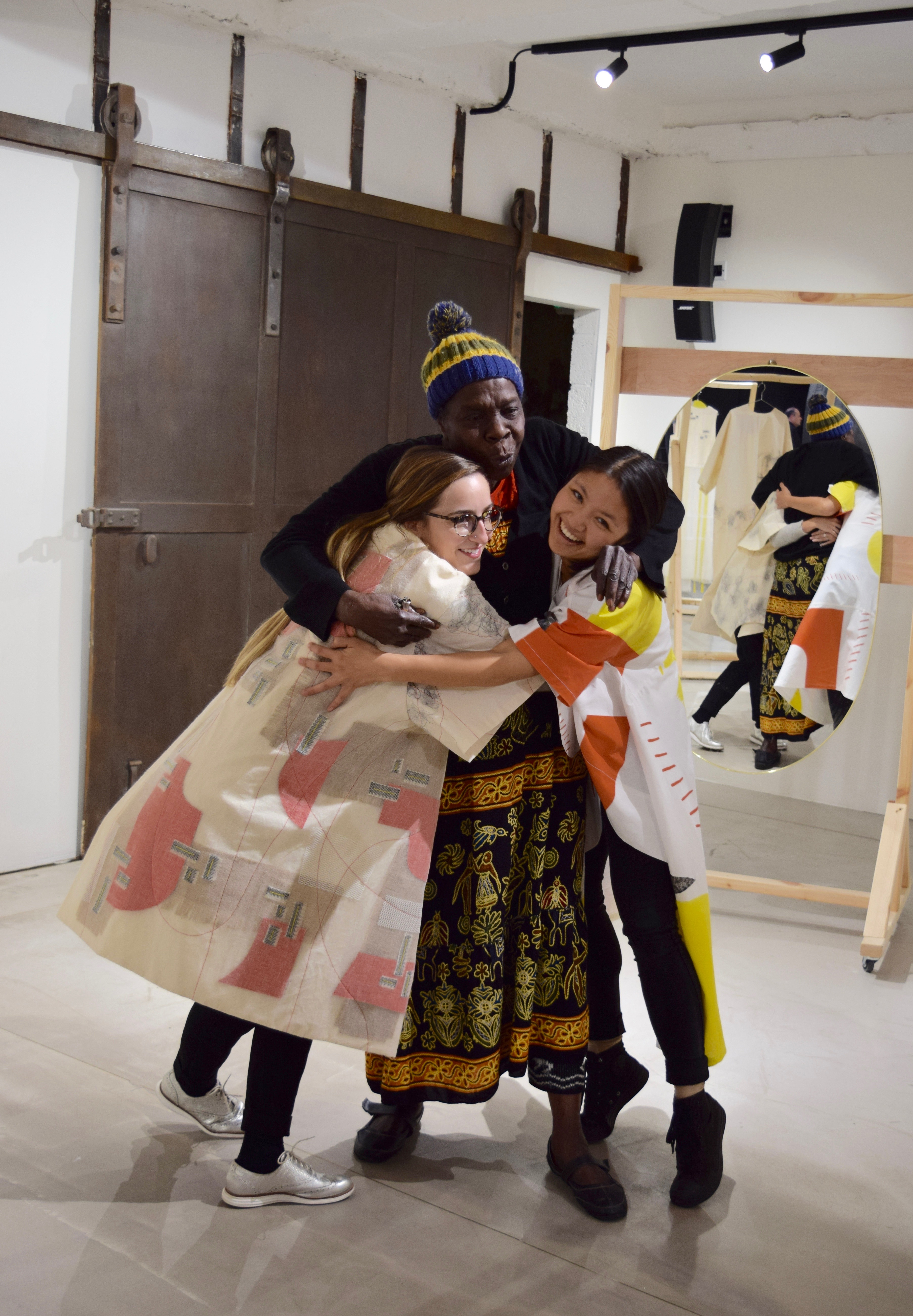 Beneath the Surface One
For this project Studio Isabel Fletcher used recycled wool carpet underlay as the basis of the collection. Working with this fabric follows the theme of using interior materials designed to be hidden from view and showcasing them as beautiful materials in their own right. Using interior materials and exploring the possibility of what can be achieved brings with it many challenges and difficulties. Yet through the process of thorough experimentation, the Studio was able to see what this new material's capabilities were and how they were able to manipulate it and work with it to create a unique collection that is true to it's design handwriting.
Not only did the Studio use a material more commonly associated with interior spaces, but also sourced inspiration for the collection from iconic pieces of furniture by designers and architects; Frank Lloyd Wright, Joe Colombo and Roger Tallon.
The collection was presented as a dance performance to show that despite being a conceptual collection, all the clothing was still truly 'wearable'. The dynamic interaction between the dancers and the clothing brought the clothing to life and this vibrant way of presenting clothing will always be integral to my work.
Read the Press Release
here
.
Materials
Wool Underlay, Neoprene, Cotton, Bed Springs, Nylon Mesh.
Date of Production
April 2018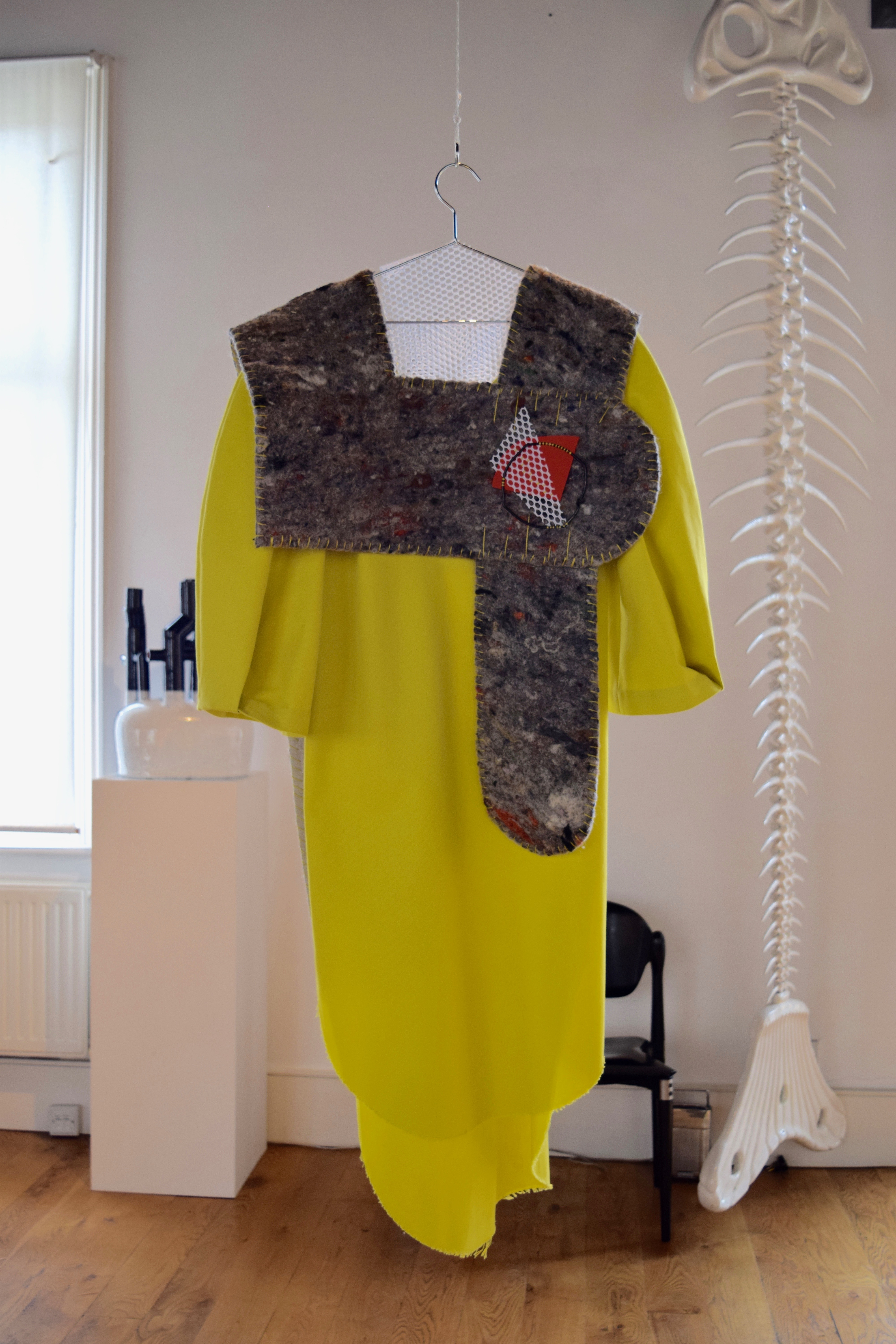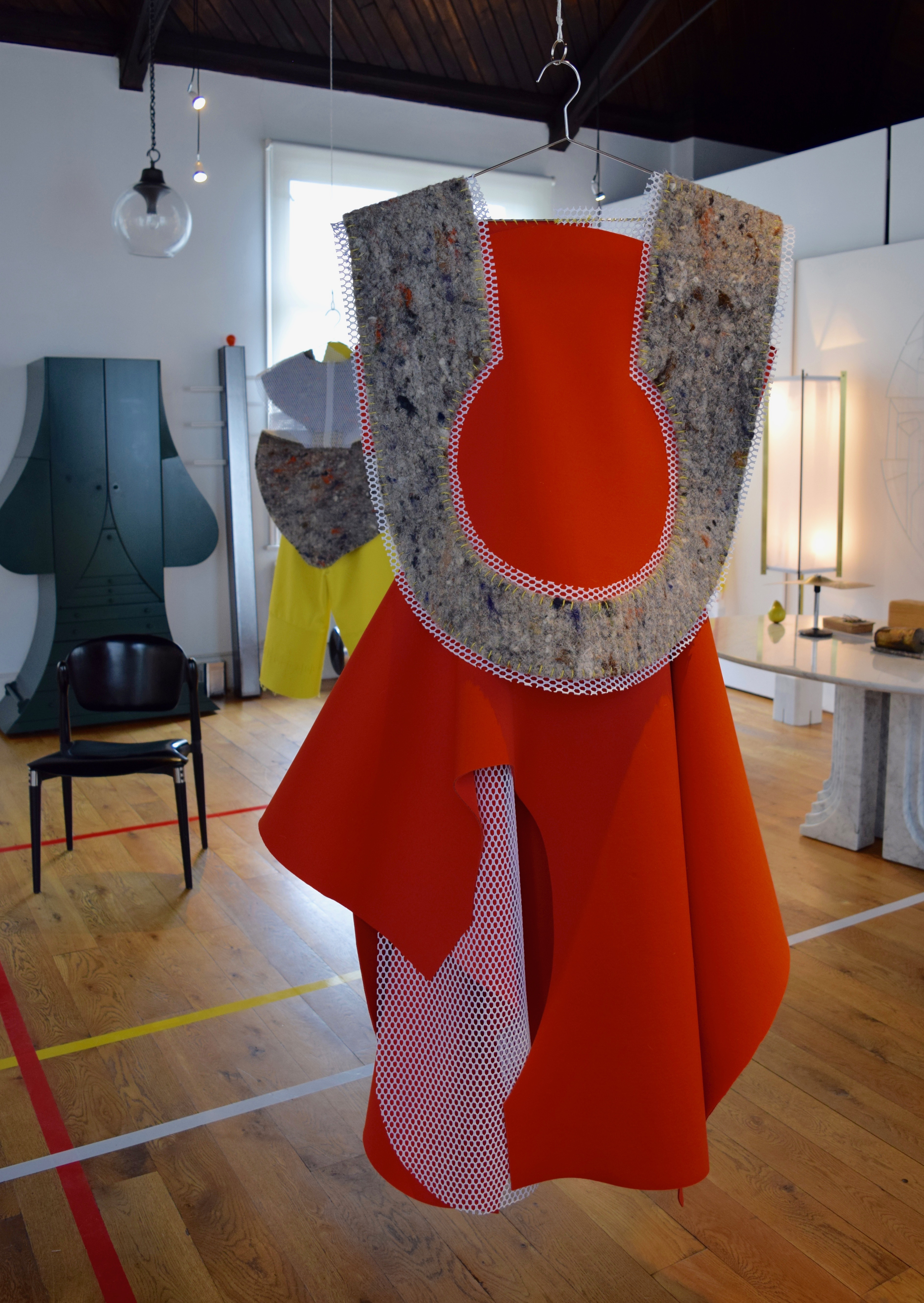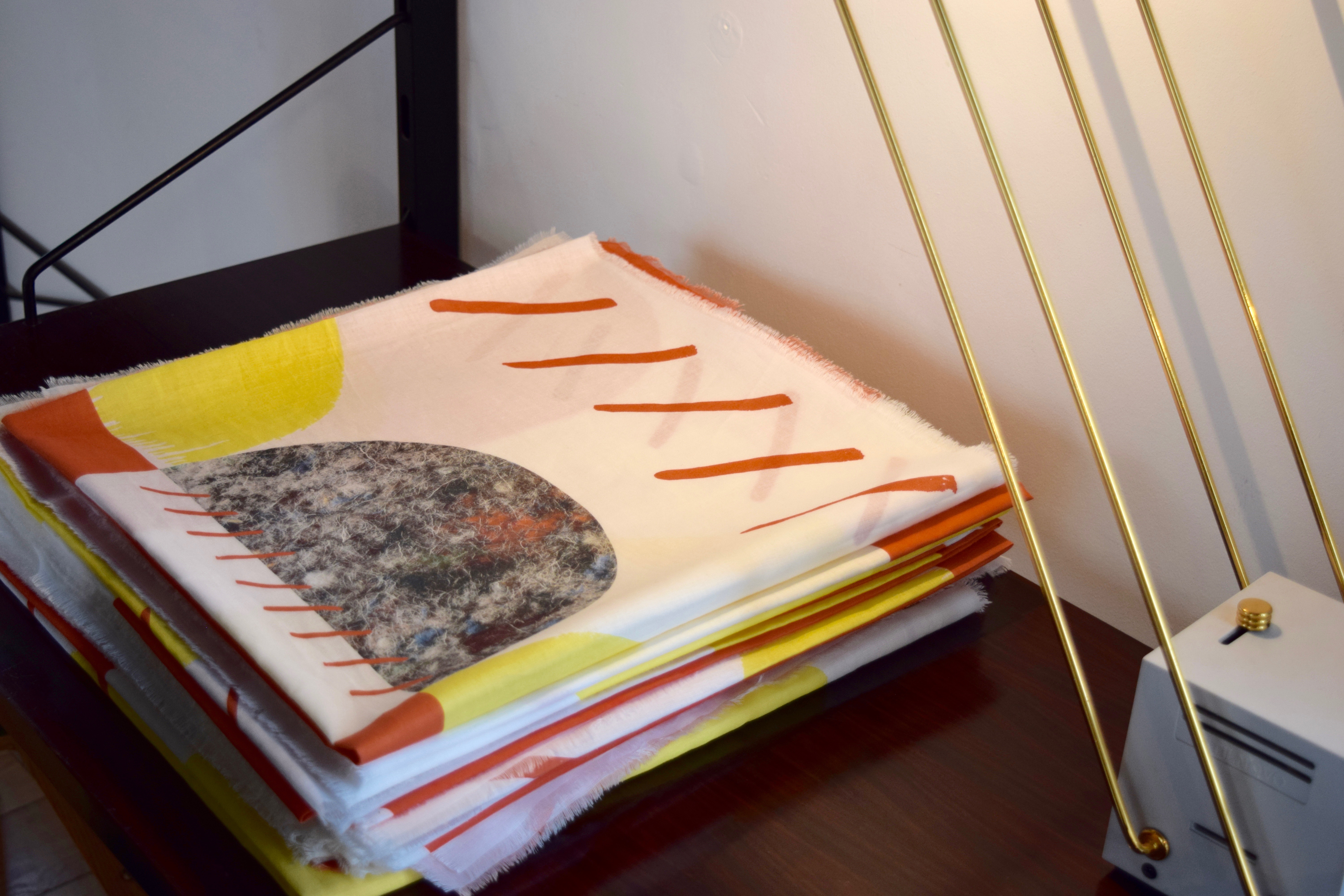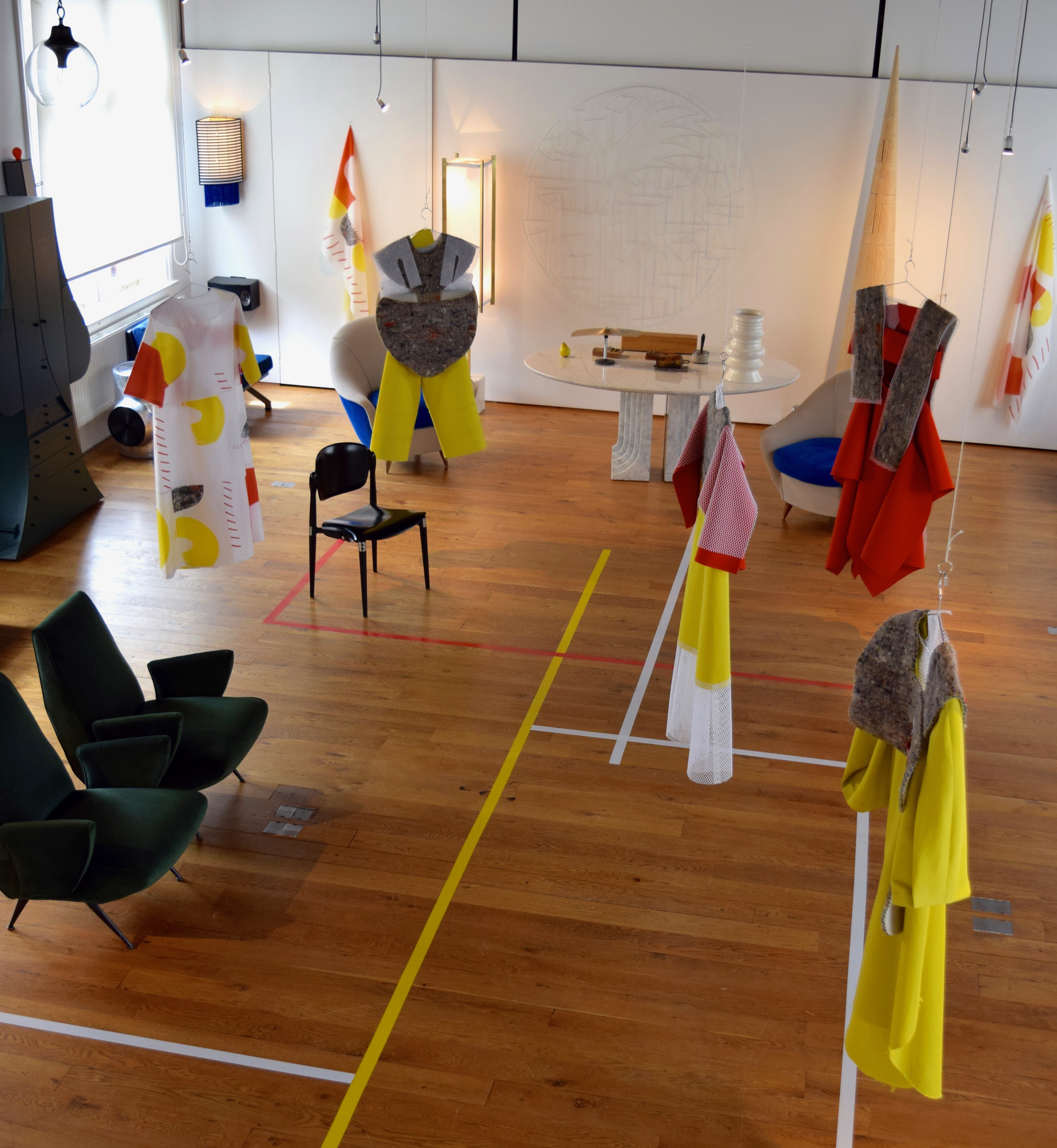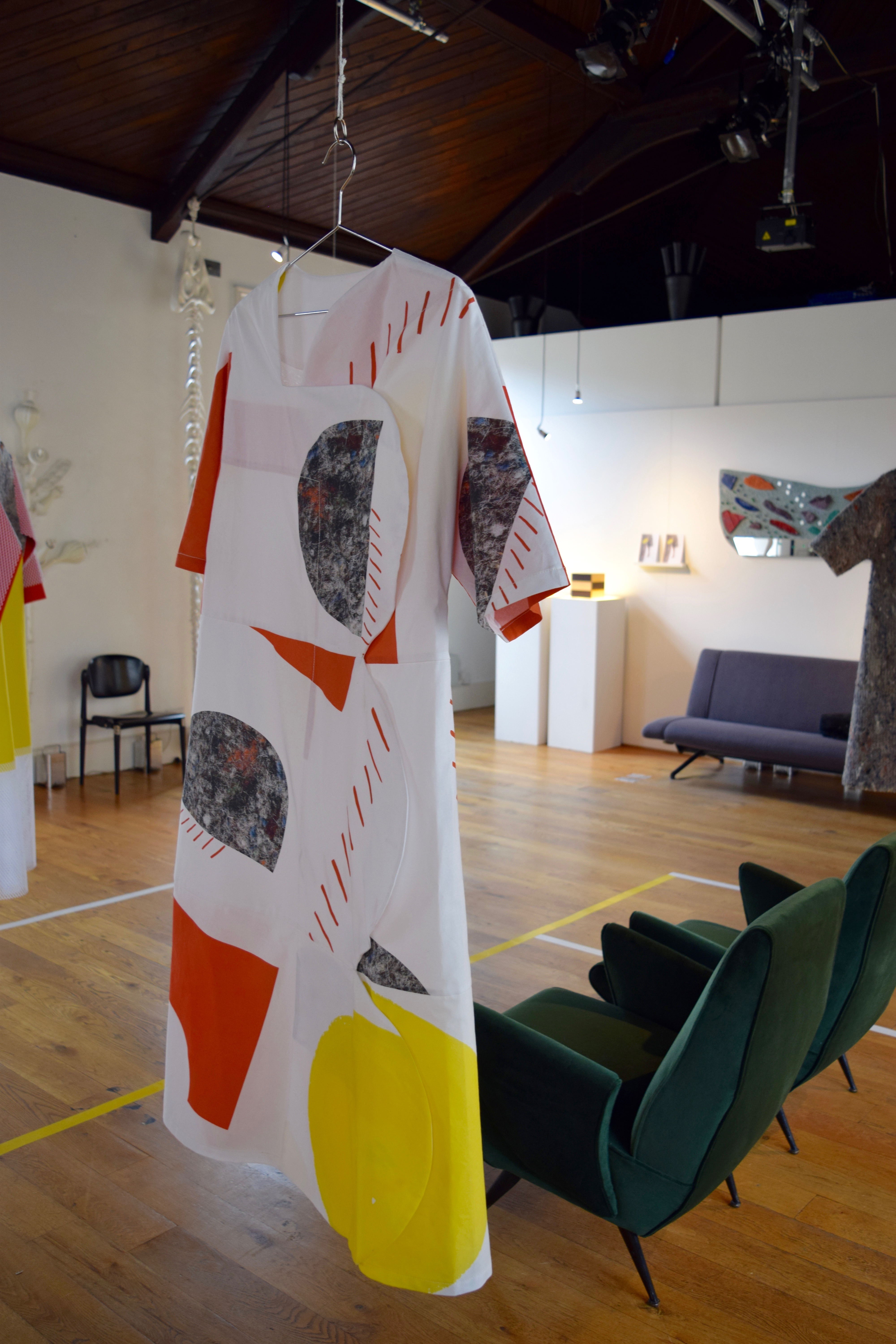 Offcut Textiles

The Offcut Textiles is an ongoing series of surface design experiments using naturally dyed fabric offcuts. Recent work has taken the form of intricate hand sewn quilts made from naturally dyed bridal silk offcuts. These silk offcuts, which would otherwise go to landfill, have been coloured using a range of natural pigments such as avocado, nettle, annatto, weld, and logwood. Intricate hand stitching adds texture and detail to these bold, contemporary craft pieces. Their graphic shapes and compositions are determined by the shapes of the offcut textiles, making each quilt entirely unique.

Materials
Bridal Silk Offcuts, organic cotton-linen, wool, peace silk, repurposed wool blanket, naturally dyed wool and silk offcuts.

Date of Production
Ongoing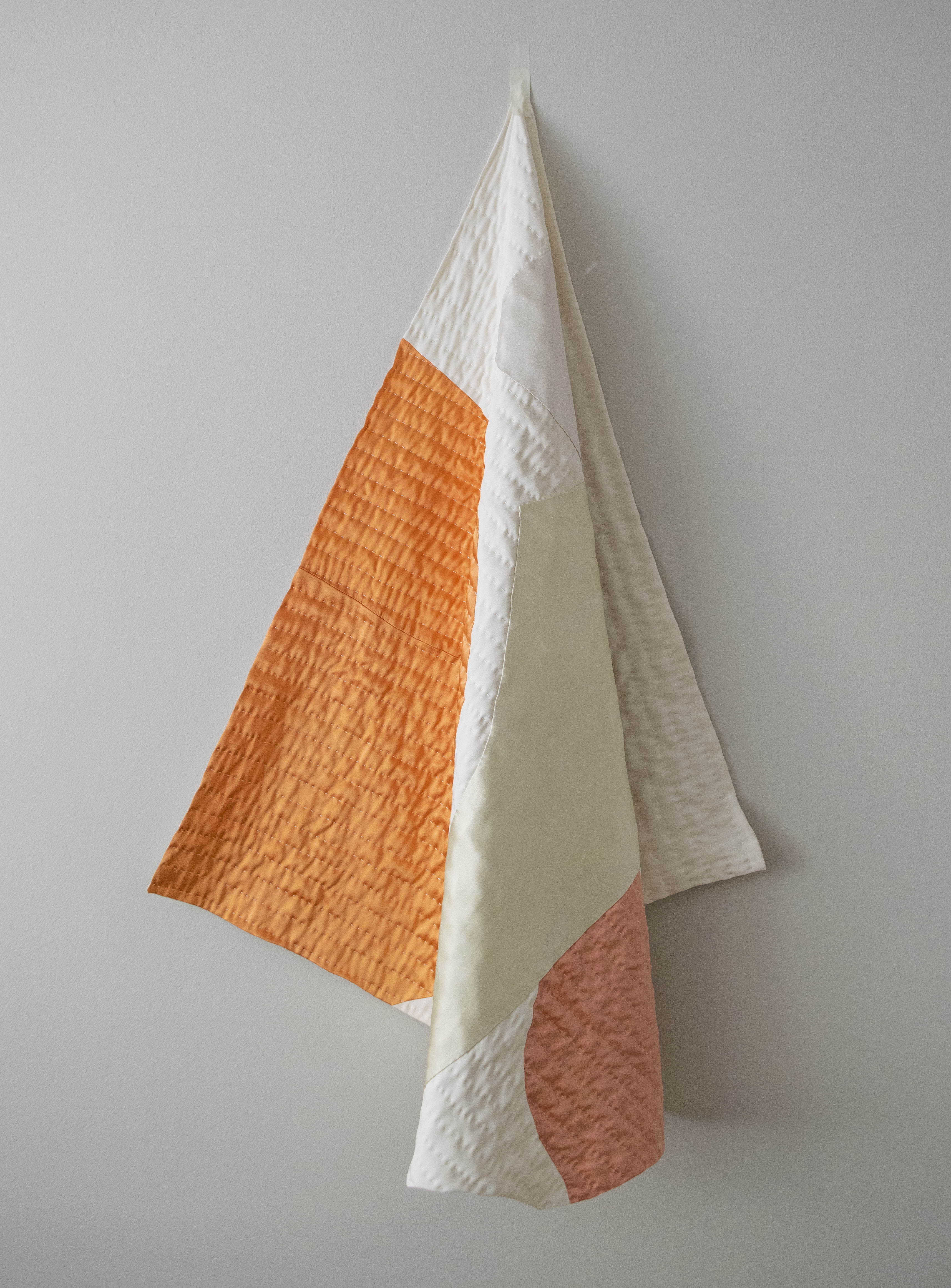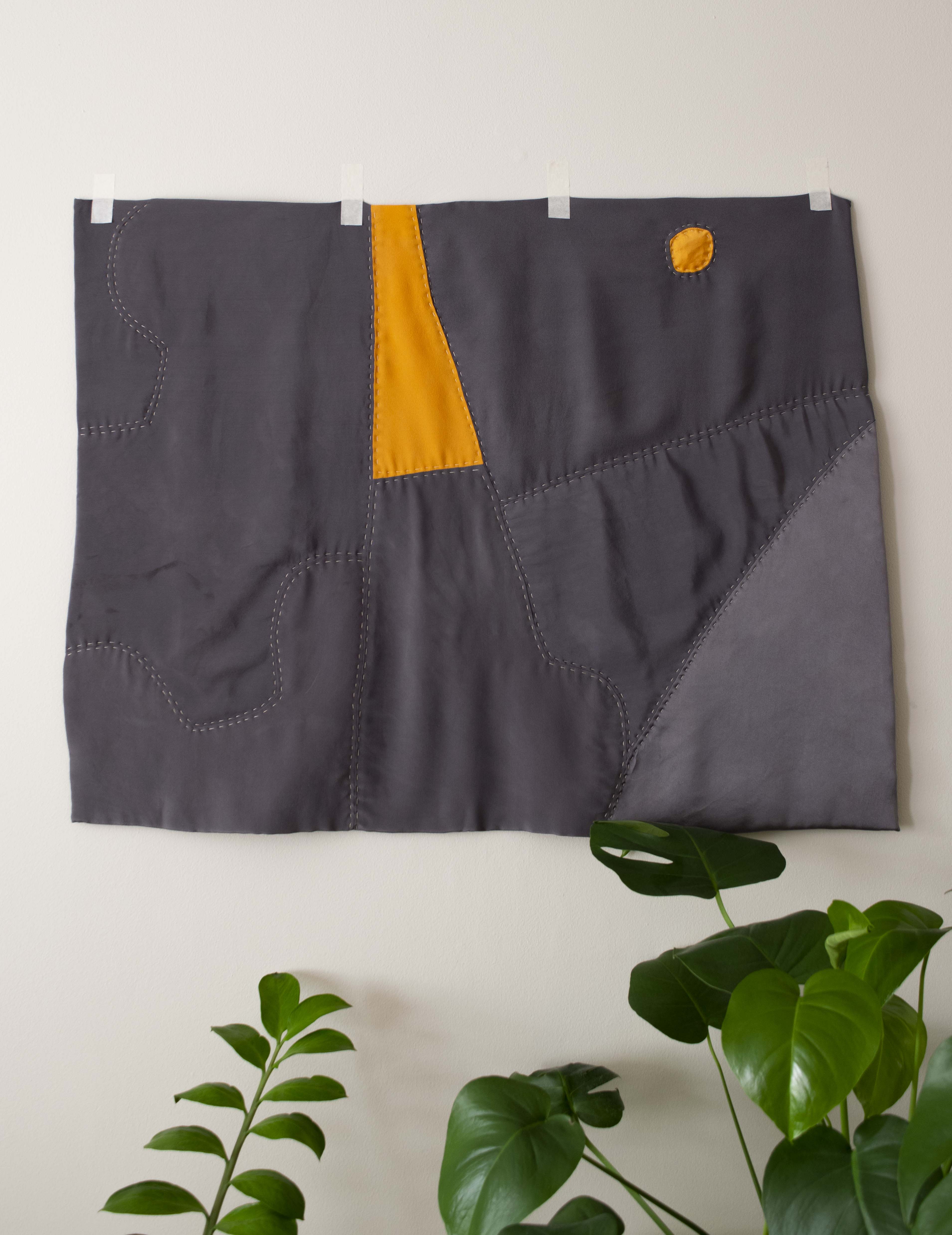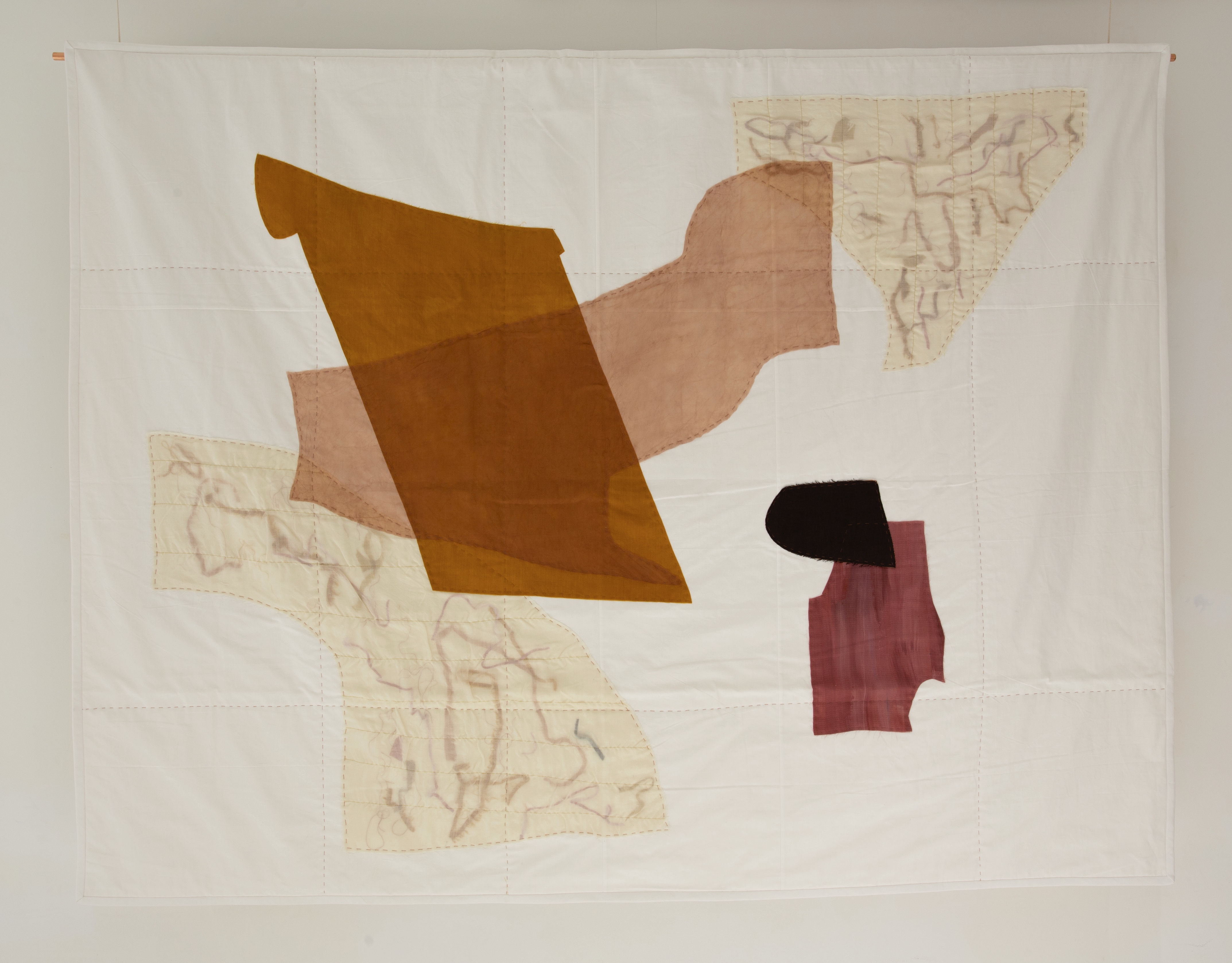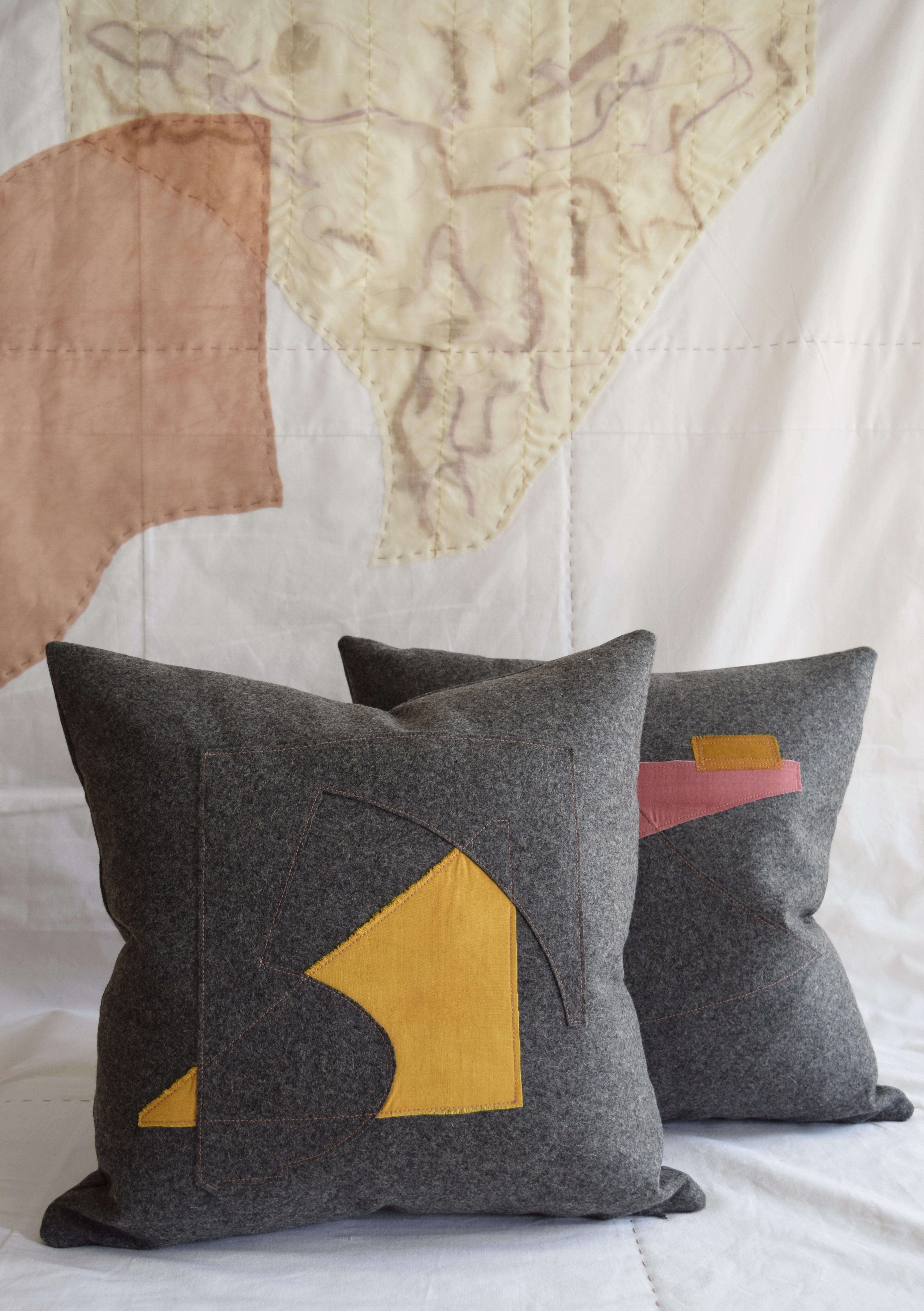 Offcut Rug

The first phase of the Offcut project was an intricate clothing collection inspired by the colours and bold shapes of workshop offcuts. For the second phase, fabric remnants have been worked into a range of sculptural rugs and wall pieces.

"The ethos of this project is to help people view the potential for fresh design in offcuts. Scraps are not rubbish. People must learn to respect the materials they use, and consider what happens to them once they have been discarded."

To produce Offcut One, Studio Isabel Fletcher worked with a variety of sustainable materials such as British Herdwick wool felt, organic hemp and linen mixes.

The rugs and wall pieces in this collection feature a modular design. Built from a series of interchangeable panels, each product is highly customisable to suit any space. There is flexibility to vary the design within each panel, changing the composition and aesthetic of the overall piece.


Materials
Herdwick wool felt, hemp, linen.
Date of Production
April-September 2019